Things You'll Need
Enamel paints or Porcelain pens

Plain, unfinished ceramic coffee mug

Non-toxic clear acrylic finishing spray

Paintbrushes

Newspaper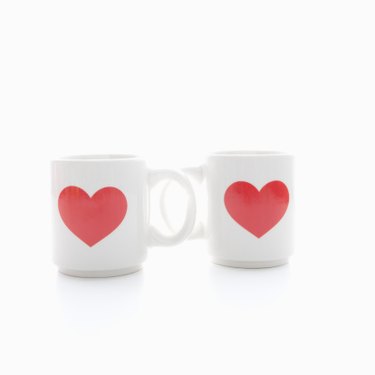 Personalized coffee mugs make great gifts for birthdays, holidays and special occasions like Mother's Day or Father's Day. There are several ways to personalize a coffee mug, but the easiest is to use paint. Some people prefer to fire their painted mugs in a kiln, but you can accomplish this look without having to spend money to use a kiln. The first thing to decide is what you are going to paint on the coffee mug.
Step 1
Spread out the newspaper on a flat surface.
Step 2
Place your paints, paintbrushes, ceramic coffee cup and a cup of water on the newspaper.
Step 3
Use the paints or porcelain pens and paintbrushes to paint a picture, a phrase or even a single word onto the coffee mug. Draw the design on the cup in pencil first if you are more comfortable painting with guidelines. Rinse your brushes in the water before changing colors and when you are done painting. Allow the paint to dry completely, according to the manufacturer's instructions. This will take anywhere from four to eight hours.
Step 4
Cover the entire cup with the clear-coat spray. Allow the coating to dry for 48 hours so that it is fully cured.
Step 5
Hand wash the cup before use.
Warning
Never put this ceramic coffee cup in a dishwasher; the painted surface will wear off.