Things You'll Need
5-gallon bucket

1/4 measuring cup

Water

Stir stick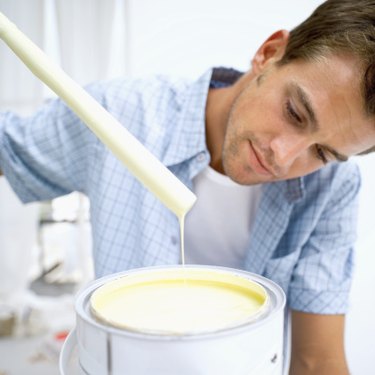 Diluting paint can improve paint flow but should be done sparingly. Over-diluting water-based paint reduces its ability to cover flaws and adhere to a surface. Water dries at a slower rate than paint and can alter the drying time specified on the product label. The water-to-paint ratio can vary from one product to the next, so finding the dilution or thinning recommendations on the product label is recommended. One-quarter cup of water per gallon of water-based paint is a doable ratio because it is minimal. If more than a 1/4 cup is added, then you may need to apply several coats of paint.
Step 1
Pour 1/4 cup water into a 5-gallon bucket.
Step 2
Pour 1 gallon of water-based paint into the bucket.
Step 3
Mix the paint with the water for several minutes until they are thoroughly mixed, using a stir stick.
Tip
Follow the diluting or thinning directions on the label of the paint product for appropriate water-to-paint ratios.