Things You'll Need
Glassware

Glass paint

Brushes and sponges in a variety of sizes

Cookie sheet

Oven mitts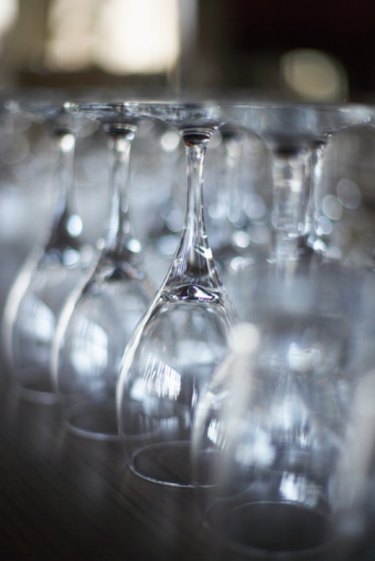 Hand painted glassware adds a personal touch to your collection of kitchenware and adds character and interest to otherwise plain pieces. Whether you choose to paint a set of wine glasses, a serving bowl or a pitcher, the glass can be painted and baked in the span of an afternoon. Baking sets the color and design in place, so the glassware can be washed and handled like store-bought pieces. Children can help with the painting, but the baking should be left to an adult. Painted glassware can be used for party favors, made for gifts or simply added to your own collection.
Step 1
Clean glassware gently with a mild soap and warm water. If there are any grease or streaks, you can clean the glass with rubbing alcohol. Allow to dry completely. Use a micro-fiber rag to remove any dust or debris.
Step 2
Paint your design onto glassware. Use a stencil, a template or paint freehand directly onto the surface of the glass. Stencils and patterns can be found at craft stores, or you can create your own. Before you paint the glassware, it's a good idea to practice with paper.
Step 3
Set aside each piece as you finish it to allow the paint to dry. Read the label on the paint, as some types of paint may need to dry for up to 48 hours before baking.
Step 4
Preheat the oven according to the directions on the paint. Place the glass onto a cookie sheet and put it inside the oven and bake according to the paint's specifications.
Step 5
Remove glassware from the oven after it has cooled completely. Rinse with a mild soap and warm water. The piece is now ready to be used or gifted.
Tip
Experiment with different types of paint for different effects. For instance you could use a combination of opaque and translucent shades of the same color. Create themes for your glassware; for instance, if your family has a pasta night, create a pasta bowl for each family member. Another idea is to create a set of glassware for your book club or poker night.
Warning
Bake per instructions to avoid broken glassware. Don`t limit yourself to floral designs. Instead experiment with patterns such as geometric, paisley, plaid and damask. During experimentation, it is best to complete one piece from beginning to end to view the final results. Once you are satisfied with the results, you can create as many pieces as you wish.