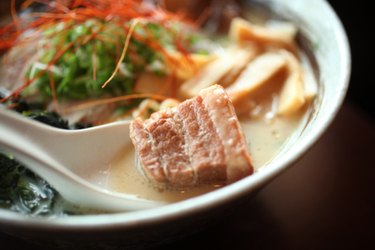 Circulon cookware, a sturdy, nonstick product first designed 25 years ago, includes pots and pans as well as baking dishes. The hallmark feature of Circulon is the patented grooved surface that extends the life of the state-of-the-art nonstick coating. The cookware is sold in a variety of collections, each having slightly different features, but all are designed for sturdiness and even cooking. Some can be used in the oven as well as on the stove top.
Step 1
Fill your Circulon muffin, cake or bread pan with batter and bake as you would with any other pan. However, there is no need to use oil or oil spray on the pans because of the special nonstick finish. The product will withstand heat up to 500 degrees. It is also possible to use metal utensils on the pan, but be sure to wash it by hand.
Step 2
Check the manufacturer's instructions for most Circulon pieces in the Contempo, Elite and Total collections as oven use will vary among pieces. The Espree collection cannot be used in the oven. Some of the others will tolerate oven temperatures from 350 to 400 degrees. You can use metal utensils, but you should hand wash most of these collections.
Step 3
Use the Infinite collection on the stove top or in the oven. This collection works with all types of heating, including electric, gas and induction. Brown a roast in the Infinite casserole on the stove top, add vegetables and place it in the oven to finish. It will withstand temperatures up to 500 degrees. Move it to the Circulon cradle with a butane burner to serve at the table. The Infinite collection can be washed in the dishwasher as well.
Tip
There is no need for butter or oil in any Circulon cookware, making it a healthy way to cook.
Warning
With the exception of the Infinite collection, wash your Circulon cookware by hand using mild detergent and soft dishcloths or nylon scrubbers.