How often do you pull out a roasting pan? Every Sunday, like your grandma, or just once or twice a year around the holidays? It doesn't really matter, because either way, a roasting pan is a useful and versatile piece of cookware. Want to slow-cook large cuts of meat for indoor barbecue? Your roaster is there for you. How about an extra-large batch of lasagna or roasted veggies? You betcha. We've picked out six of the very best roasting pans, perfect for whatever kind of cooking you have in mind.
What to Consider When Purchasing a Roasting Pan
​Size:​ The size of your roaster will depend on the size of your oven, the amount of storage space you can afford to give over to it when it's not in use, and the size of the birds (or cuts) you want to roast. For most cooks, a 16-inch roaster is as big as you'll want to go. That'll handle a turkey of 20+ pounds handily, without taking up an entire cupboard. Smaller roasters of 9 by 13 inches or less will handle a modest turkey, a prime rib or a large chicken, and serve double duty as a lasagna pan.
​Materials:​ The iconic speckled roasters with domed lids are made of relatively thin steel covered in enamel. They're fine for in-oven use, but if you want to brown meats on the stovetop, or whisk up a gravy over a burner afterwards, they're prone to hot spots and scorching. Heavy-duty hard-anodized aluminum, stainless steel (plain or multi-ply, with an aluminum core), carbon steel, ceramics and cast iron with and without an enamel coating are also popular options. Many have a nonstick coating as well, which makes cleanup easier but eventually, inevitably, wears out.
​Shape:​ The traditional big oval roaster takes up a lot of space in your oven; rectangular roasters and smaller ovals will make room for more sides. The traditional roaster's lid and high sides obstruct air flow and reduce browning, so most current designs—like the ones used in commercial kitchens—favor low sides, often flared, with large handles for easy maneuverability.
​A Rack:​ Many roasters now come with a rack, to raise your bird (or beef) from the bottom of the roaster, so it doesn't steam and stew in its own drippings. You'll get better airflow and better browning, and less grease in the finished food. Some racks are flat and some are V-shaped, but either way, it's a nice accessory to have.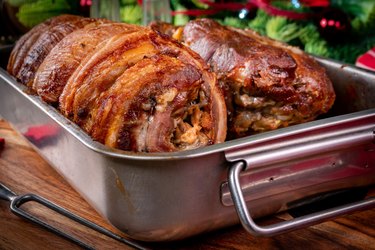 The Best Overall Roasting Pan
Cuisinart 16-Inch Chef's Classic Stainless Steel Roasting Pan
If you want a pan you can use all year long, and not just during the holidays, this is it. At a price that's substantially lower than many of its competitors, this straightforward offering from Cuisinart ticks pretty much all of the right boxes. The tri-ply stainless steel construction is durable and transfers heat capably; it goes effortlessly from stovetop to oven; and its glossy steel finish cleans up easily after normal use. Its handles are large and easy to grasp, and its U-shaped stainless steel rack is sturdy enough to stand up to the biggest roasts. It's even dishwasher-safe, though like most cookware, it'll look better if it's hand washed instead. Overall, it's a solid winner on all counts.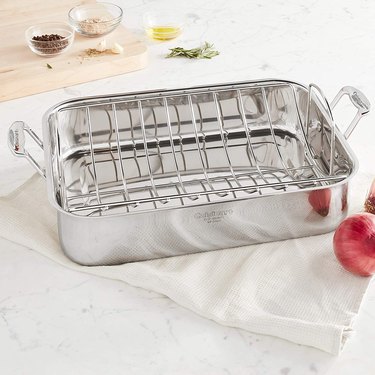 The Best Budget Roasting Pan
Chicago Metallic 9X13 Rectangular Roaster
It would be easy to slot the traditional enameled roaster into this category, but they're not the best or most versatile choice. Instead, we recommend this practical, compact, versatile rectangular roaster. Want a roast chicken or mid-sized turkey? Sure, it's big enough for those (it'll handle up to 25 pounds of meat), but it's also a reasonable size for lasagna, pans of roasted veggies and many other uses. It's made from sturdy carbon steel with a non-toxic silicone based nonstick coating, and has a nonstick rack as well. The nonstick surface makes cleanup a breeze, but it limits your upper temperature to 450 degrees Fahrenheit and it means you won't be able to use metal utensils with it. Still, at this price, it's an outstanding performer.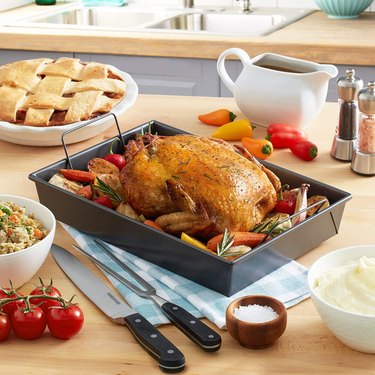 The Best Cast-Iron Roasting Pan
Le Creuset Signature Rectangular Roaster, 5.25 Quarts
Aluminum cookware offers the best heat distribution, but cast iron delivers the best heat retention. French manufacturer, Le Creuset, made its reputation on enamel-coated cast iron, which keeps the material's excellent heat retention but eliminates the risk of rust and the need for seasoning. Just as importantly, the enameled finish gives each piece a lasting beauty, which means they can be used proudly as serving pieces.
This Signature roaster is a prime example. At roughly the same dimensions as our top pick it's a perfectly versatile pan, and it's oven-safe up to 500 degrees Fahrenheit. You can use it on any cooking surface, from gas to induction, and in any oven it can physically fit. Its white enameled interior lets you easily gauge the brownness and doneness of the foods you're cooking, and the six exterior colors let you coordinate your roaster with the rest of your decor or with an existing collection of Le Creuset. Is it pricey? Oh, yes. But it's a roaster your grandkids will still be using, and it will still look good (they're very serious about that lifetime warranty).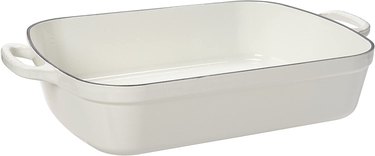 The Best Nonstick Roasting Pan
GreenPan Reserve Healthy Nonstick Roasting Pan With Rack
Nonstick pans are, in general, a mixed blessing. They certainly make cleanup easy, but unfortunately, the coatings seldom last, they're easily damaged by metal utensils, and there are some concerns about their safety when used on high heat. This roaster from GreenPan addresses all of those issues.
For starters, the company's proprietary ceramic nonstick coating contains none of the potentially-toxic compounds used in other pans. It's also oven safe to 600 degrees Fahrenheit, higher than most other roasters in this roundup. The extra-durable coating is also dishwasher safe, scratch-resistant and okay to use with metal utensils. It's also as beautiful as it is functional, with its riveted handles bringing a brass-look accent to the dark grey of the roaster's hard-anodized aluminum construction. All in all, it's an impressively solid roaster, and if not for the price difference, it would have been a strong contender for our top pick.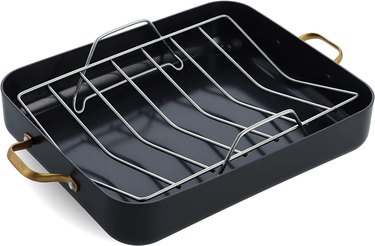 The Best Stainless Steel Roasting Pan
All-Clad Stainless Steel Roaster With Nonstick Rack
Whatever you're looking for in a roasting pan, this exceptional piece of cookware from All-Clad probably delivers it for you. It's big enough for your Thanksgiving turkey, it's oven-safe and broiler-safe to 600 degrees Fahrenheit (the non-stick rack is only good to 375), and it's compatible with any cooktop except induction. The aluminum core in its tri-ply construction gives it exceptional heat conduction, in the oven or on a stovetop (it's compatible with everything except induction).
The large, riveted stainless steel handles are easy to grasp with oven mitts on, and so are the raised handles of the V-shaped rack. The roaster's handles are at the end and the rack's handles are at the side, for easy gripping (not everyone gets that part right). It's also dishwasher-safe for easy cleanup, though the mirror-smooth finish makes it easy to hand-wash if you prefer. It's a nearly perfect roaster, and should last you a lifetime.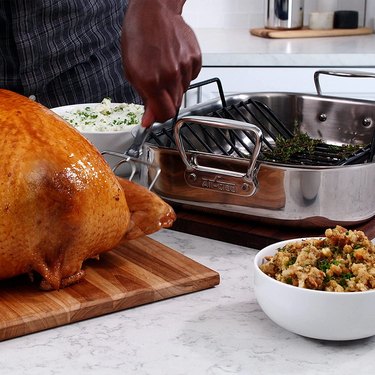 The Best Non-Roaster Roasting Pan
Nordic Ware Half Sheet with Oven Safe Nonstick Grid
There are some experts who question whether a home cook needs a roasting pan at all. While they're handy to have, especially if you roast a lot, there's a case to be made for simply using a baking sheet. A half-sheet pan with a matching rack will handle any roasting chores you care to throw at it—from a massive turkey to roasted vegetables to a weeknight sheet-pan dinner—with ease, and it's both more versatile and easier to store than a roaster.
More importantly, it's not a compromise because a sheet pan works really, ​really​ well as a roaster. Although it has a flat rack, rather than the V-shaped rack favored in most roasting pans, it provides outstanding air circulation around your food and therefore exceptional browning. For home cooks, we really like this Nordic Ware sheet (it was the top pick in our baking sheets review). It's solidly built with a steel-reinforced rolled rim so it won't warp or buckle in the oven (or under the weight of your turkey) and when bundled with its nonstick rack, it's everything you really need.