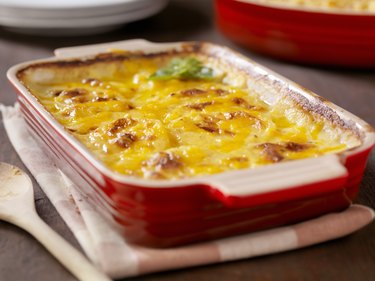 There are a few sturdy, durable workhorses that you'll use all the time in your kitchen. Things like a good set of stainless steel cookware, or your favorite knife. Their counterpart for oven use is a simple rectangular casserole, the basic 3-quart baking dish almost everyone has on hand. You'll use it for everything from casseroles to cobblers and even roasting small cuts, so you'll want a good one. We've selected a half-dozen of the best baking dishes, and explain what sets our top picks apart from the rest of the pack.
What to Consider When Purchasing a Baking Dish
Baking dishes come in all shapes and sizes, so to keep this comparison in "apples to apples" territory, we've narrowed it down to the single most versatile format: A 9- by 13-inch rectangular pan, with a capacity of (usually) 3 to 4 quarts. That's the standard size called for in most recipes and it'll be your workhorse, though you may want a couple of larger or smaller ones to complement it.
With that out of the way, there are a couple of other things you should take into account before making your purchase:
​Material:​ A baking dish needs to distribute heat evenly, clean up neatly, and go from oven to table to fridge. The most common materials are glass, enameled cast iron and porcelain or other ceramics. Glass is lightweight and easy to clean, but fragile and requires special handling. Enameled cast iron is durable, but heavy and costly. Porcelain and ceramics are popular options because they're tougher than glass, lighter than cast iron and can be visually appealing.
​Handles:​ The best baking dishes have relatively large handles, which make them easier to grasp when fully loaded. Remember, you won't be gripping these in a bare hand most of the time, and if the handles are too small, you might struggle to handle the dish safely with your hands in oven mitts.
​Depth and Capacity:​ The baking dishes in this roundup all have the same rough size, but vary widely in capacity, from a scant 3 quarts to over 5 quarts. That's because some are deeper than others, which—up to a point—is a good thing. It means you can stack up a really impressive lasagna, or have a safety margin to keep your gratin from bubbling over and burning on the oven's floor. The downside of higher capacity is increased weight when the dish is full, and small recipes might not perform as expected in a bigger dish.
​Visual Appeal:​ You'll want to serve directly from your bakeware sometimes, which might affect your choices. Glass is rather plain-Jane and doesn't pack as much of a punch visually. Enameled cast iron and porcelain baking dishes can be much more colorful, and even the old-school simplicity of plain white has its appeal.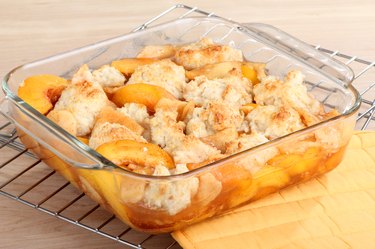 The Best Overall Baking Dish
Staub Ceramic Rectangular Baking Dish
There are a lot of good baking dishes, but this one ticks all the boxes. Its oversized loop-style handles make it easy to grasp and lift even with oven mitts on, and even when it's full. The sides are taller than those of most competitive models, giving it extra capacity (a full 4 quarts, rather than 3) so it will fit your biggest casseroles. It's oven-safe to 575 degrees Fahrenheit—more than most other brands—so you can get beautifully browned gratins, without risking your dish (and your floor). The Staub is available in a range of bold colors to suit your decor, and it's even dishwasher safe. The only downside is that it's a bit heavy, because it's stoneware, but that in turn is why its heat distribution is so even. Overall, it's a solid winner.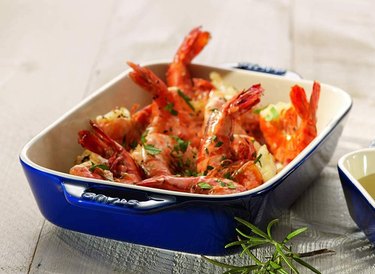 The Best Ceramic Baking Dish
Great Jones makes one of the best casserole dishes, but you won't find it in your local store. The New York-based company sells direct to the consumer, so you'll need to order it from them. This is a very practical piece of cookware, matching the Staub with its 4-quart capacity and extra-high sides. There's even a lid available (not included) for taking food to your next potluck. The Great Jones isn't quite as heat-resistant as the Staub, topping out at 500 degrees Fahrenheit, but its handles are bigger and its joyously retro pattern—a minor selling point—is available in a range of colors. It'll happily go from oven to table to freezer, and it's dishwasher-safe once you've finally emptied it.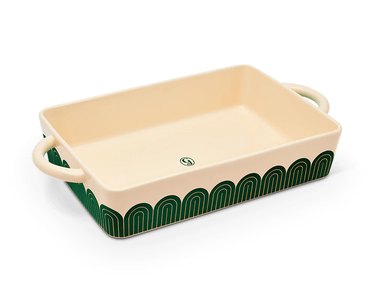 The Best Glass Baking Dish
OXO Good Grips 3-Quart Glass Baking Dish With Lid
There are any number of interchangeable overseas manufacturers making glass baking dishes, but the big names are Pyrex and Anchor Hocking. Realistically you can't go wrong with either brand, but OXO's Good Grips offering edges them out by the smallest of margins. Its price is lower, for one thing, and it includes a plastic lid at this modest price. Even better, it's made of durable borosilicate glass (like the original Pyrex), rather than tempered soda-lime glass used in contemporary Pyrex and most other brands. That should make it more durable over time, though you'll still need to be aware of its limits (no taking it out of the oven and putting it on a cold surface!).
The Best Budget Baking Dish
Anchor Hocking Oven Classics Glass Baking Dish Value Pack
What's better than one rectangular baker? How about two, in different sizes, all for one extremely modest price? This set include both a 2-quart and a 3-quart baking dish from Anchor Hocking, which gives a bit more versatility than you'd enjoy with a single dish. The smaller 2-quart dish can fit a batch of brownies, for example, while the 3-quart bakes your main meal or a big, juicy cobbler. A glass casserole dish isn't your absolute best-overall choice (it's not broiler safe, for example), but you'll get two high-quality baking pans for one low price, and sometimes that's enough.
The Best High-Capacity Baking Dish
Emile Henry Modern Classics Baker
If a few of your favorite casserole recipes make oversized batches, or if all the neighborhood kids magically show up at your door when you make mac and cheese, you might want a baker that holds more than the usual three quarts. If so, this offering from Emile Henry might just fit the bill. The extra-high sides of this ceramic casserole dish offer a capacity of 4 1/2 quarts, 50% larger than the usual 3-quart size. The sleek dish in classic white is not nonstick, but it's easy to clean: It's dishwasher-safe, but hand-washing is fast and easy, as well. The only quibble with this one is that the handles are a bit small for a high-capacity dish, so you'll need to be careful with your grip.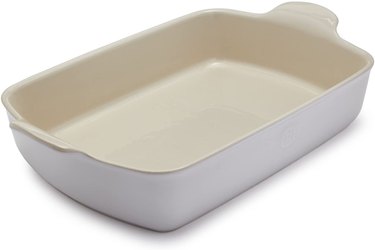 The Most Aspirational Baking Dish
Le Creuset Enameled Cast-Iron Rectangular Roaster
Most of the baking dishes we've listed have good warranties and will last several years with proper care, but Le Creuset's enameled cast iron is in a whole other category. It's genuinely heirloom-quality cookware, and the company is absolutely serious about that lifetime warranty. While they're best known in the U.S. for their Dutch ovens, this rectangular baking dish is every bit as beautiful as it is functional. The enameled cast iron is oven- and broiler-safe at any temperature, and its heat retention is unmatched (it will keep your food hot for longer than dishes made of other materials. Hand-washing is recommended in order to protect the enamel finish. The only downsides are its added weight, and of course the price, but this cast-iron casserole dish is something your grandkids will use.