The '80s brought us such wonderfully tacky delights as pegged pants, big bangs, Olivia Newton John albums, leggings and Captain Eo. Eighties parties are a good way to celebrate the good, the bad and the ugly of the decade's pop culture. Decorating for an '80s party is easy as long as you take into account the styles of the time.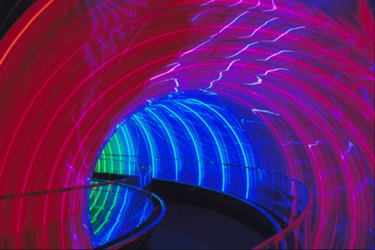 Things You'll Need
Streamers

Posters

Vinyl Records

Colored Poster Board

Scissors

Oven-Safe Glass Bowls

Camera

Cassettes

Photo Cut Outs

'80S Games

Sheets

Balloons
Step 1
Buy some neon pink, yellow and turquoise balloons and streamers. Hang up the inflated balloons along the walls and hang the streamers. If you aren't big on balloons and streamers, use cassette tape as an alternative. Hang the cassettes on the ceiling or wall and then pull out the tape to use as streamers. Choose sheets in zebra print or neon pink, yellow and turquoise colors to cover the walls. Tack the sheets on the walls to create a temporary wall paper. Buy some posters of eighties movies and celebrities and hang them on the sheets.
Step 2
Repurpose old vinyl records by melting them in the oven and making them into food serving bowls. Buy a few records from the thrift store. Place them in the oven on upside-down, oven-safe glass bowls. Set the oven to 225 degrees. Bake for five minutes and then shape the vinyl as it cools. Hang up the record sleeves on the wall for more decorations.
Step 3
Place Rubik's cubes, "Simon" and other games from the time period on the tables between snacks and drinks. They will set the scene and entertain guests.
Step 4
Choose a tacky, high-resolution photo of people from the '80s and have it blown up to life size. Ask the photo place to make a cardboard stand-up for you, if possible. Otherwise, glue the print to a large piece of cardboard. Cut two small pieces of cardboard with slots in them to help make the cut out stand up. Set the stand-up photo at the door to greet guests or cut out the faces of the people in the photo and take pictures of guests standing behind the cut out with their faces showing.
Step 5
Cut out poster board in the shapes and colors of Pac Man and his ghosts to decorate a blank wall with the decade's favorite video game. Or use colored blocks in the shape and colors of Tetris pieces to bring your guests back to the good ol' days of gaming.