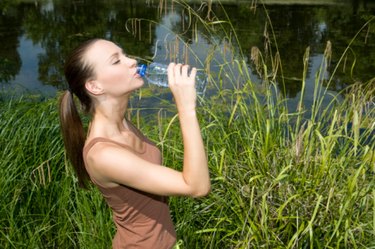 Nalgene bottles are popular cylindrical plastic water bottles with screw-top lids. They're made of semi-transparent and colorful plastic. Whether or not your Nalgene bottle was made with the plastic product BPA as most older bottles were, if you look on the bottom of the bottle you'll see the number seven in a triangle. That seven means the bottle is made of mixed or unknown resins and in many cases cannot be melted down for traditional recycling. However, there are many ways to reuse the Nalgene bottle for recycling it at home.
Step 1
Tape an LED light to the inside of the lid of your Nalgene bottle. When the light is on and the lid is closed, you'll now have a colorful, earth-friendly lantern. Companies such as SolLight and Guyout Designs have pre-made lids with LED lights built in. Repeat with multiple different-colored Nalgenes and hang them on a string for indoor or outdoor lighting year round.
Step 2
Fill the Nalgene with either hot or cold water and ice to use alternately as a hot pack or ice pack. Remember that hot water can make the plastics leach inside, so do not drink from the bottle after using hot water in it.
Step 3
Fill old Nalgene bottles with change, crayons or any other small objects you have trouble keeping track of. The built in handle means you can hang it on a hook in your kitchen or bathroom for easy storage.
Step 4
Hook the loop on the handle around a part of your bike that won't get in the way such as the front handlebars or basket and use the Nalgene as waterproof storage for your bike rides.