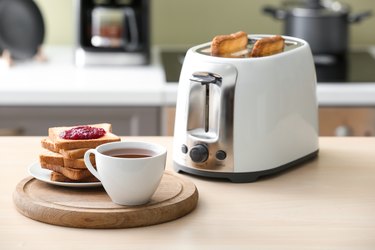 Dualit is a company that offers high-quality, high-performance appliances for your kitchen, and their toasters are no exception. Their extensive line of toasters are designed to fit any kitchen aesthetic and family size. Dualit toasters require only minimal maintenance, but no appliance is immune to dust, and fingerprints and crumbs can quickly build up inside your toaster. Cleaning a Dualit toaster is simple and, when done regularly, improves the performance and appearance of your appliance.
Cleaning a Dualit Toaster
Before you start cleaning a Dualit toaster, make sure it is unplugged and cool. You don't want to burn yourself or risk getting a shock during this process. The main thing you need to do regularly is empty the crumb tray. If the crumbs build up, this can become a fire hazard in your kitchen. Simply pull the crumb tray out, dump the crumbs in the trash and wipe the tray with a clean, damp cloth. Replace the crumb tray right away and don't attempt to use the toaster without the crumb tray in place.
The frequency of cleaning depends on how often you use your toaster, but consider cleaning out the crumbs daily when you finish using the toaster. If there are crumbs in the slots, use a soft brush to remove them and they will fall down to the crumb tray.
If a piece of toast breaks off in the toaster slot, do not use a knife to remove it. Unplug the toaster and use a soft brush to remove the toast. You can shake crumbs out of the toaster by turning it upside down if necessary. Don't insert slices of bread that are too large for your toaster. For example, the NewGen toaster cannot accept bread slices thicker than 1 1/10th inch (28 millimeters). Check the user manual of your model to determine the limits of your toaster.
You can clean the top part of the toaster with a stainless steel cleaner and a soft cloth. Follow the instructions provided for your cleaner, and take care not to get the cleaner in the toaster slots or on the end casings of the toaster. These end casings are easy to clean with a soft, damp cloth. Follow up by drying and polishing with a soft dry cloth to prevent water spots and streaks.
Dualit warns that children under the age of 8 years old should not be allowed to clean the toaster for safety reasons. Never use abrasive cleaners or pads as they can scratch the surface of your toaster. Using chemical cleaners, including stainless cleaner, on the end casing may cause the toaster to become discolored.
Dualit has an extensive catalog of toasters from "lite" 2-slice toasters, to 6-slice and conveyor toasters for higher volumes of toast. Consider how many slices of toast you are likely to want at a given time and how thick the bread is that you regularly toast. Some Dualit models can support toasting buns for burgers and sandwiches if that is something that you commonly enjoy.
Beyond the practical, consider how the toaster will look in your kitchen. Some models are quite basic and come in colors like black or stainless steel while others have a more modern design. The architect line of toasters offers interchangeable color panels.