Things You'll Need
Paper towels

Water

Cooktop cleaner

Cooktop scraper

Dish detergent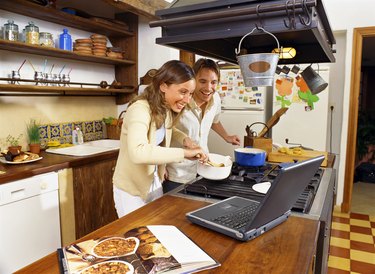 KitchenAid electric cooktops are designed to be easier to clean than their traditional counterparts because they use a flat ceramic glass cooking surface instead of burners. Food, grease and water stains simply wipe off with no need to disassemble. However, you do need to be careful to use the proper cleaning supplies to clean your cooktop or permanent damage can occur.
Step 1
Dampen a paper towel with water. Squirt about 1 tbsp. cooktop cleaner on your soiled KitchenAid cooktop. Rub the cleaner all over the cooktop with the damp paper towel, paying particular attention to heavily soiled areas.
Step 2
Use a cooktop scraper to scrape off any cooked-on food or grease. Wipe the scraper with a paper towel, and wash with mild dish detergent. Dispose of any soiled paper towels.
Step 3
Dampen another paper towel and squirt 1 tsp. of cooktop cleaner on your cooktop. Polish the entire cooktop, dispose of the dirty paper towel and buff with a clean, dry paper towel.
Step 4
Remove the cooktop controls by pulling them straight out.
Step 5
Wash cooktop controls with mild dishwashing detergent and dry thoroughly with paper towels. Replace the cooktop controls and ensure that they remain in the "Off" position.
Tip
For best results, hold the cooktop scraper completely flat on the cooktop surface.
Warning
Before you begin cleaning your cooktop, make sure that all knobs are in the "Off" position and that the cooktop is cool. Never use abrasive cleansers, steel wool, oven cleaner or scrub brushes to clean your KitchenAid cooktop. They can permanently damage the finish.