Things You'll Need
Fabric

Interfacing

Seam tape

Thread

Tape measure

Straight edge ruler

Scissors

Straight pins

Iron

Ironing board

Sewing machine

Boning

Hook and eye closures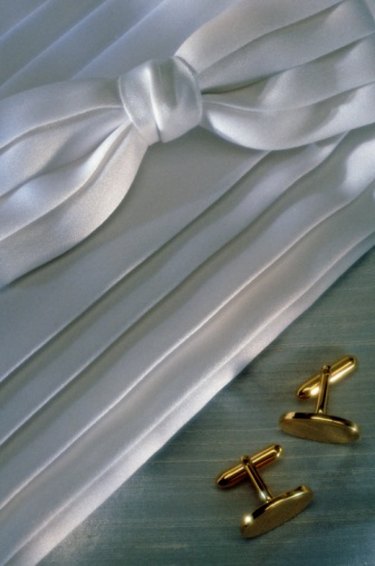 British military officers adopted the use of cummerbunds while in colonial India. The style spread as non-military people adopted the new look. In Hindi, cummerbund means to hold close to the waist. Cummerbunds are typically part of a black tie ensemble, worn during formal occasions. The pleated cummerbund serves double-duty, not only as a substitute for a belt, but also as a place to keep ticket stubs or other small pieces objects.
Step 1
Choose the fabric and thread. There are a wide variety of fabrics to choose from that work well for a cummerbund. Consider silk, charmeuse, Jacquard, crepe de chine, brocade and damask, as well as cotton.
Step 2
Measure the waist and add 3 inches. This is the length of fabric needed to make the cummerbund. To determine the width of the cummerbund, multiply the desired width by 2.5. This gives the amount of fabric sufficient for pleats.
Step 3
Cut the fabric to the measurement determined above. Cut interfacing 1/2 inch smaller on each side than the fabric. The interfacing will give support to the cummerbund and keep pleats sharp.
Step 4
Place the interfacing on the back side of the fabric. Fold the fabric up over the interfacing and iron in place. Stitch lower edge in place.
Step 5
Beginning at the bottom edge, fold up one inch. The back side of the fabric should be together. Using the straight edge, double check both ends and press in place. Fold the fabric again, this time so the front sides are together. For this part of the pleat, the measurement is 1/2 inch. Press again. Continue this pattern until all the fabric is pleated.
Step 6
Sew four sections of seam tape vertically into the sides of the cummerbund. The seam tape is used as a casing for the boning, and there should be two at each side of the waist. Trim the boning and slide it into the casings.
Step 7
Make the lining, if desired. To make the lining, cut a piece of fabric that is 1/2 inch larger than the cummerbund on all sides. Fold the 1/2 inch seam allowance in, so that the back sides are together and press. Pin the back sides of the cummerbund and lining together and stitch around the edges, very close to the fold.
Step 8
Finish the cummerbund by sewing a row of hook and eye closures on each end of the cummerbund. These should be placed 1/2 inch apart. A second, or even third, row of closures can be sewn on, so the cummerbund can be adjusted for fit.
Tip
There has long been debate as to whether to wear the pleats up or down when wearing a pleated cummerbund. Pleats should face up -- otherwise they cannot be used to hold anything.