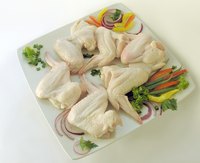 The results of chicken cooked in a rotisserie can be quite tasty. Although the chicken remains moist and the skin is brown and crispy, rotisserie chicken also has a drip pan to remove some of the fat. You may have cooked a whole chicken in a rotisserie, and now you are wondering if wings will work as well. You are in luck. Chicken wings are simple to cook in a rotisserie, just as long as you have a flat rotisserie basket attachment for your rotisserie oven.
Things You'll Need
Chicken wings
Paper towel
1 tsp. salt
1 tsp. pepper
Cooking brush
2 tbsp. olive oil
flat rotisserie basket
rotisserie oven
Open up package of chicken wings. Rinse with cold water, and pat dry with a paper towel.
Season or marinate any way you like. If you are looking for a simple chicken wing, season with a teaspoon of salt and a teaspoon of pepper. For a crispier skin, brush with olive oil.
Take out your flat rotisserie basket. Open it up and place chicken wings next to each other. You should be able to fit 10 to 12 wings in the basket. Close up basket.
Attach the flat rotisserie basket to the rotisserie oven. Place the drip pan below. Turn on rotisserie to 400 degrees. Cook for 30 to 40 minutes, or until there is no redness in the chicken.