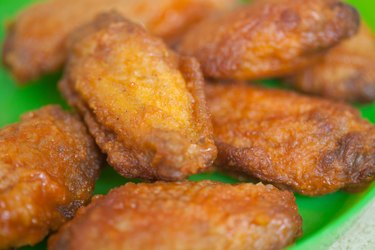 Buffalo hot wings are coated in a vinegar-based hot sauce and butter. The wings originated in Buffalo, New York and are common appetizers and snacks at parties. Instead of throwing away leftover Buffalo chicken wings, reheat them in the oven to restore the juicy flavors. Buffalo wings need to be monitored carefully while they heat in the oven so that they reach the proper temperature without affecting the taste or texture of the chicken.
Step 1
Line a baking pan with aluminum foil.
Step 2
Heat the oven to 350 degrees F.
Step 3
Place the Buffalo chicken wings into the baking pan.
Step 4
Bake the wings in the oven for 15 minutes or until heated thoroughly.
Step 5
Remove the Buffalo wings from the oven and serve immediately.
Tip
Heat the chicken wings for 20 to 25 minutes or longer if they are frozen.
Toss the Buffalo wings in sauce after they finish baking if they appear too dry.
Warning
Avoid overheating the Buffalo wings because it can dry them out, which will affect the taste.