Instead of purchasing deep-fried hot wings at a restaurant, you can save money and make your own at home. When the hot wings are deep-fried, the outer skin becomes crunchy and golden brown. The deep-fry oil also cooks the chicken wings quickly. After you deep-fry the wings, they are tossed in a buffalo hot sauce, and the sauce binds to the cooked wings. Serve the wings with bleu cheese dressing and celery sticks for a quick meal or appetizer.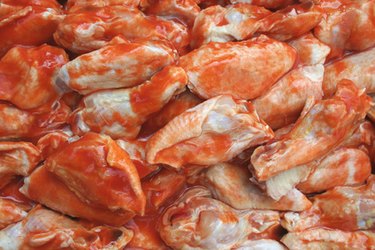 Things You'll Need
4 Cups Vegetable Oil

Baking Sheet

4 Lbs. Separated Chicken Wings

1/2 Cup Buffalo Hot Sauce

Tongs

Pepper

Deep Fryer

Salt

Aluminum Foil

Small Saucepan

Plate

Paper Towels

Container With Lid

1/4 Cup Butter
Step 1
Season the chicken wings with salt and pepper. Allow the chicken wings to sit at room temperature for one hour.
Step 2
Heat the oil in the deep fryer to 375 degrees Fahrenheit.
Step 3
Fry the wings in small batches. Place them in the deep fryer until they are crispy and brown, which will take around 10 minutes.
Step 4
Remove the chicken wings from the oil with tongs. Cut through the thickest chicken wing to ensure that the juice runs clear instead of pink so that you know the wings are finished cooking. Place them on a plate covered with paper towels to drain.
Step 5
Wrap the chicken wings in aluminum foil to keep them warm. You can also place them on a baking sheet and put them in the oven set at 275 degrees Fahrenheit.
Step 6
Melt 1/4 cup of butter on the stovetop in a small saucepan.
Step 7
Pour 1/2 cup of hot sauce and 1/4 cup of butter into a container with a lid. Place the wings in the container and close the lid. Shake the container to coat the wings with the hot sauce.
Step 8
Serve the hot wings while they are still hot.
Tip
You can purchase separated chicken wings at the grocery store or you can cut the wings yourself. Place a sharp knife between the joint of the drum and the wing. Slice between the joint to separate the drum and wing.
Add more butter to the hot sauce if you want the wings to taste milder.
Bake the wings in an oven set for 350 degrees for 15 minutes after you coat them in the hot sauce. This will make the wings less messy.
Warning
Avoid adding too many wings to the oil because it will cause the temperature to drop and the wings will not fry well.
Always wash your hands before and after handling raw chicken wings to prevent the spread of harmful bacteria.