Things You'll Need
2 lb. thawed chicken wings

Paper towels

Small bowl

4 tablespoons salt

2 1/2 tablespoons garlic powder

1 1/2 teaspoons sage

2 teaspoons paprika

2 teaspoons pepper

1/2 teaspoon cayenne pepper

Baking sheet

Oven mitts

Tongs

Slow cooker

1 1/2 cups buffalo sauce

1/4 cup butter

Spoon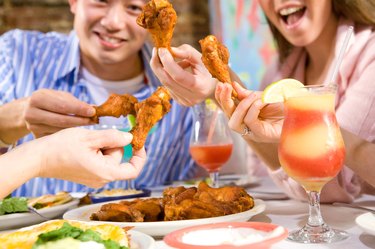 Hot wings, also known as buffalo wings, were named after Buffalo, New York, which is where the dish originated in 1964. The chicken wings are normally fried and covered with a spicy sauce known as buffalo sauce. Hot wings aren't breaded before they are fried, which gives them a slightly crispy skin after being coated with buffalo sauce. You can get the same effect with a slow cooker by adding a dry spice rub to the wings.
Step 1
Turn the oven on to "broil" and allow it to preheat.
Step 2
Rinse the wings in cold water and use a paper towel to pat the wings dry.
Step 3
Place the salt, garlic, sage, paprika and peppers in a bowl and mix them together to make the dry rub. Rub the dry rub mixture into the wings, coating each wing fully with the spices.
Step 4
Place the wings on a baking sheet and broil for 8 minutes on each side. The broiling keeps the wings crispy and allows the sauce to stick better after the slow cooker process.
Step 5
Remove the baking sheet from the oven with oven mitts and use the tongs to transfer the hot wings to the slow cooker.
Step 6
Pour the buffalo sauce and 1/4 of a cup of melted butter over the chicken wings and stir so that the sauce is covering all of the wings. If you like your wings saucy, add an extra 1/2 cup to 1 cup of buffalo sauce.
Step 7
Cook the wings for 4 hours on low heat or 2 to 2 1/2 hours on high heat.
Tip
Serve your hot wings with a ranch or blue cheese dip. The creamy taste complements the taste of the buffalo sauce.
Try experimenting with different levels of spiciness in your hot wings. An extra dash of hot sauce or sprinkle of cayenne pepper can send the heat soaring.
Warning
If you make extra hot wings, warn your guests before serving. Not everyone can handle extremely hot food and you don't want to cause an inadvertent allergic reaction.