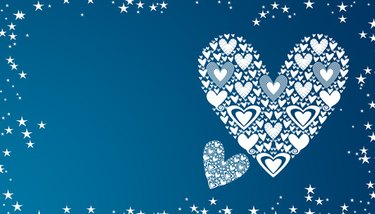 The Cricut cutter is a great tool for any and all paper craft projects. Whether card making or scrapbooking, the Cricut can fulfill your needs. There are four easy methods to use in order to make your Cricut creations stick cleanly and accurately to your projects.
Adhesive Cricut Vinyl
Step 1
Purchase Cricut vinyl rolls at a local craft store or go to cricut.com.
Step 2
Cut out your design using the adhesive vinyl rolls instead of regular paper or card stock. Be sure to leave the backing on the vinyl while the machine cuts. It is a good idea to set the blade to a high number so that it can cut through both the vinyl and the backing.
Step 3
Once your design has been cut out and you've removed the cutting mat from the Cricut cutter, simply remove your design and stick it to your project. The Vinyl will stick to paper, card stock, walls and most other items.
Double sided photo stickers
Step 1
Cut out your designs using the Cricut cutter and paper or card stock.
Step 2
Remove the design from the cutting mat.
Step 3
Use different sized photo stickers to stick to the back of the design. Zots work really well because they come in different sizes, they are transparent and they can be stretched to fit any area. Some photo stickers can also be purchased on runners which makes it easy to simply roll the adhesive across the back of your cutouts.
Step 4
Stick the cutout designs to your project.
Spray Glue
Step 1
Cutout your designs using the Cricut cutter and paper or card stock. For this particular method, card stock works better as it is thicker than regular paper.
Step 2
Spray the back of your cutouts with spray adhesive. Elmer's spray adhesive works very well and dries clear so if you accidentally spray the front of your cutouts, it won't be noticeable once the project is completely dry.
Step 3
Allow the adhesive to sit on the cutouts for approximately 15 seconds or until it is sticky to the touch.
Step 4
Place your cutouts on your project.
Step 5
Allow the project to dry completely before using pens, ink, stamps or other products.
Xyron Maching
Step 1
Cutout your designs using your Cricut cutter.
Step 2
Place your cutouts in a Xyron machine. The Xyron will apply adhesive to your cutouts.
Step 3
Remove the cutouts from the Xyron and place on your project.
Tip
When scrapbooking or card making it is important that all of the products you use are acid free. This will ensure that your projects last and that there won't be any "bleeding" of ink, marker or pen.