Things You'll Need
Vinyl

Transfer tape

Applicator stick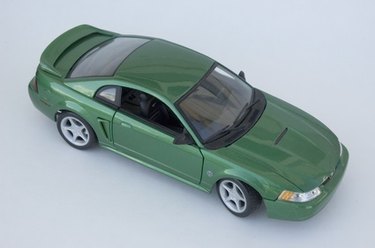 You can decorate your home, scrapbooks, crafts and even your car with the Cricut Expression. The die cutting machine is a larger version of the Cricut Create and Cricut Personal Electronic Cutter. You can cut letters and shapes up to 12 inches by 24 inches. The Cricut Expression can cut a variety of materials including cardstock, poster board, vellum and even vinyl. You can cut vinyl on your Cricut Expression and use it for a car decal.
Cutting the Decal
Step 1
Select the color vinyl you want to use for your car decal. You can buy the vinyl from your local craft store or from Provo Craft, the maker of the Cricut Expression. You can buy indoor or outdoor vinyl, though outdoor vinyl will last longer.
Step 2
Choose the correct cutting mat size. You can use the 12-by-24 inch mat or the 12-by-12 inch mat with the Cricut Expression.
Step 3
Place the vinyl sheet on the cutting mat and load it into the die cutting machine. Do not remove the protective backing yet.
Step 4
Set the blade depth on the machine to six and the pressure to two or three. These settings will cut the vinyl, but not the backing, leaving what is called a "kiss cut."
Step 5
Select your design on the Cricut Expression, and press "Cut" to let the machine cut it out.
Applying the Decal
Step 1
Peel the background around your design off the cutting mat once it is unloaded. Leave your vinyl sticker on the mat.
Step 2
Place the sticky side of the transfer tape face down on your vinyl decal.
Step 3
Rub the back of the tape with overlapping strokes from the center out with an applicator or popsicle stick. This process is called burnishing. An applicator stick normally comes with your vinyl purchase.
Step 4
Clean the surface of your car where you plan to place the decal. Also, make sure the surface is dry.
Step 5
Position the transfer tape and vinyl decal where you want it and rub the back a few more times. Carefully pull the transfer tape back at a 45 degree angle. If the vinyl starts to peel away as well, place the tape back on the vinyl and rub the back more.
Warning
You can apply the vinyl decal without transfer tape, but the transfer tape helps prevent the vinyl from stretching and leaving bubbles.