Things You'll Need
Plastic bag

Ice cubes

Dull knife

2 bowls

1 cup warm water

1 tsp. liquid dish soap

2 soft rags

Soft sponge

Terry cloth towel

1/4 cup denatured alcohol

1/2 cup cold water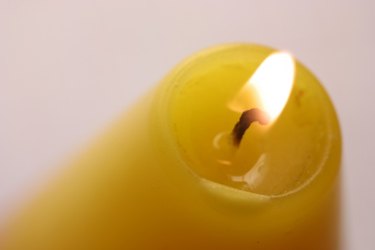 The comforting glow of candles makes them a popular addition to home decorations. Candles are responsible for the second largest application of wax in North America, reports the National Candle Association. Accidents can occur, however, when hot candle wax spills on surfaces such as appliances. Oily stains form as wax hardens, causing appliances to appear dingy. Further, colored dyes from candle wax can leave colored stains. Fortunately, basic supplies can effectively remove candle wax from appliances.
Step 1
Fill a plastic bag with enough ice cubes to completely cover the wax. Seal the bag to prevent water from leaking out.
Step 2
Lay the bag of ice cubes directly on the wax. Completely cover the wax with the bag. Keep the bag on the appliance until the wax hardens.
Step 3
Scrape off the wax with a dull knife. Apply light pressure to the knife to prevent scratching the appliance. Completely remove the wax from the appliance.
Step 4
Fill a bowl with 1 cup of warm water. Add 1 tsp. of liquid dish soap to the warm water. Thoroughly mix the soapy solution.
Step 5
Dampen a soft rag in the soapy solution. Wipe the appliance with the damp rag to remove any remaining wax residue.
Step 6
Dampen a soft sponge with warm water and blot the appliance to rinse away the soapy solution.
Step 7
Dry the appliance with a terry cloth towel. Inspect the appliance for dye stains from the candle wax.
Step 8
Dilute 1/4 cup of denatured alcohol with 1/2 cup of cold water in a clean bowl. Thoroughly mix the solution.
Step 9
Dampen a clean, soft rag in the alcohol solution and blot the appliance until the stain is completely removed.
Step 10
Rinse the appliance with the damp sponge, then dry the appliance with the terry cloth towel.
Tip
You can substitute a plastic credit card for the dull knife.
Warning
Test the solutions on an inconspicuous area of the appliance to ensure no discoloration or damage occurs. Use solutions and products recommended by the appliance manufacturer to prevent discoloration and damage.