Things You'll Need
Ice cube

Plastic sandwich bag

Butter knife

Dry-cleaning solvent

White cloth

Iron

White towels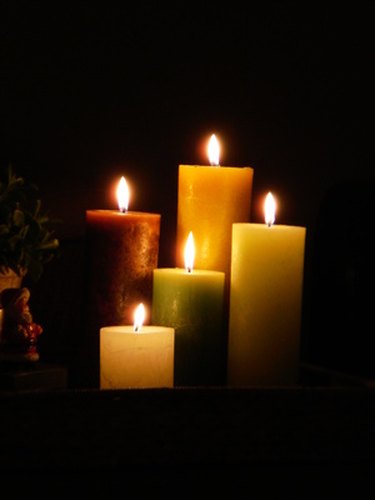 Candles come in a variety of shapes, colors, designs and smells. Candles can fill your home with a pleasant aroma while providing an elegant and romantic atmosphere. Unfortunately, burning candles means dealing with candle wax. Candles naturally produce wax when they are burning. If you are not careful, the wax can spill and splatter, landing on your upholstery. If candle wax has dripped on your upholstery, do not panic. There are a few methods that can successfully remove the candle wax without damaging your upholstery.
Dry-Cleaning Solvent
Step 1
Place an ice cube into a plastic sandwich bag. Hold the ice cube on top of the softened candle wax to harden it. Once the wax is hardened, scrape the wax off the upholstery with the back of a butter knife.
Step 2
Apply a dry-cleaning solvent to a white cloth. Blot the area with the cloth for a few minutes.
Step 3
Repeat Step 2 until all the candle wax is removed.
Iron
Step 1
Set an iron on the lowest setting possible. Using too high of a setting could damage your upholstery. Allow the iron to preheat.
Step 2
Place a white cotton towel over the top the candle wax. Rub the preheated iron over the towel for several passes.
Step 3
Examine the progress of the candle wax by lifting the towel up. If there is still candle wax present, place a clean, white towel over the wax. Continue rubbing the iron over the area until you have removed all wax.