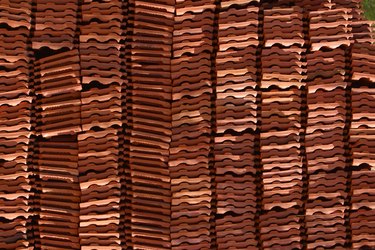 Used tile can find a new life as part of an artist's mosaic or as reclaimed tile in someone else's kitchen. There are many markets for your tile, but you will have to do the legwork of promoting the tile. Used ceramic tile, sometimes referred to as reclaimed tile, can be re-installed in your home or in someone else's. If you need help removing your tiles, hire a green contractor and let him know you intend to sell the tiles afterward. The contractor may even have a client in mind, making the business transaction simpler for you.
Step 1
Search for information on the type of used ceramic tile in flooring catalogs or by going to the manufacturer's homepage if you know the type of tile you have. If you're not sure what kind of tile you have, don't worry. You can still re-sell it.
Step 2
Measure the tile with a ruler. Photograph your tile in natural light. Create a description that lists the amount of tile you have, its relative condition, the age and type if you know it, and the dimensions of the tile.
Step 3
List your tile for sale on Salvoweb, a building salvage and antiques site.
Step 4
Contact suppliers you find on Salvoweb to let them know you have tile for sale. Email them with your description and photograph of the tile.
Step 5
Contact art schools and university art programs near you. Ask if they need old tiles for ceramics or mosaic projects. If your tiles are broken or in poor condition, this is a good way to make some money by selling them.
Step 6
Locate interior designers in your area using the Interior Designer Directory. Call or email designers to let them know you have reclaimed tiles for sale. Follow up with more information or tile samples.
Step 7
Post your tiles for sale on eBay or Craigslist if you cannot find another buyer.