Things You'll Need
Utility knife

Razor scraper

Heavy-duty gloves

Abrasive scrubbing pad

Mineral spirits

Clean rag

Clean towel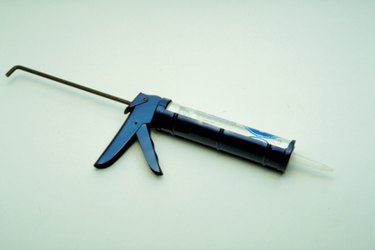 The flexibility and strength of silicone caulking make it a long-lasting sealant for countertops. Silicone caulking keeps crevices airtight and impermeable to water, while completing a countertop's appearance. In some cases, however, removal of silicone caulking is necessary, such as when caulking is accidentally applied to unwanted areas. Silicone caulking also eventually wears out and loosens from countertops, requiring removal. Whatever the case, you can remove silicone caulking from a countertop using basic techniques.
Step 1
Slice along the middle of the caulk bead with a utility knife. Pry off as much caulking as possible by hand.
Step 2
Position a razor scraper at a 25-degree angle to the countertop surface. Using the scraper, gently scrape off the remaining caulk. Wear heavy-duty gloves to prevent cutting your hands with the razor scraper.
Step 3
Saturate an abrasive scrubbing pad with mineral spirits. Scrub the countertop with the pad until the silicone residue is completely removed.
Step 4
Moisten a clean rag with warm water. Wipe the countertop with the moistened rag to rinse away the mineral spirits.
Step 5
Wipe the countertop with a clean towel until dry.
Tip
You can substitute a glass scraper for the razor scraper.
Warning
Utility knives and razor scrapers are very sharp; be extremely careful while using them.