Things You'll Need
Utility knife

Wide putty knife

Hammer

Pry bar

Adhesive remover

Paintbrush or rag

Spackling compound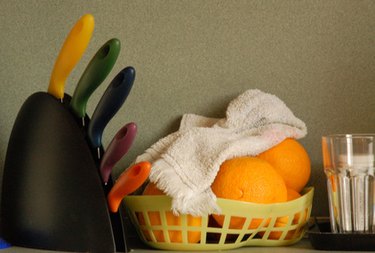 Laminate backsplashes are functional, but not always beautiful. Homeowners may find that they want to replace their cheap laminate backsplash with something more stylish like tile. To install a new backsplash, it's first necessary to remove the old one from the kitchen walls. If you are not careful during the process, you may damage the walls, making it difficult to replace the backsplash with tile because of the uneven surface.
Step 1
Break the seal of caulk between the countertop and the laminate backsplash, using the utility knife. Avoid scratching the countertop as you break the caulk seal.
Step 2
Slide a wide putty knife behind the laminate backsplash. Use a hammer to tap the putty knife into place.
Step 3
Slide a pry bar into place between the laminate backsplash and the putty knife. The putty knife will keep the pry bar from damaging the wall as you pry the backsplash away from the wall. Work slowly and avoid doing damage to the wall as much as possible.
Step 4
Remove the glue from the walls with an adhesive remover. Keep in mind that the adhesive remover will also remove paint, so avoid getting it on painted areas. Spread the adhesive remover onto the wall with a paintbrush or rag. Follow the manufacturer's directions for how long to leave the adhesive remover on the walls. Use a putty knife to remove the adhesive and remover from the wall.
Step 5
Repair the sheetrock with a putty knife and spackling compound. Spread the compound into holes or dents in the wall. Use the putty knife to smooth the compound. Let it dry completely. Paint or tile as desired.