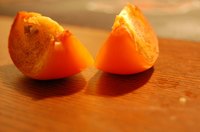 Fuyu persimmons freeze well and, like peaches, they make a nice accompaniment to ice cream. Making a simple syrup in which to freeze them helps to preserve their appearance and texture, making sure they look as good as they will taste when you present them for a family treat. As with other fruit, only freeze persimmons once; if you let them thaw, make sure you use them. Freezing persimmons twice ruins their texture and flavor.
Things You'll Need
6 to 8 fuyu persimmons
Peeler
Sharp chef's knife
Cutting board
Sugar
Medium nonreactive saucepan
Heat-proof spoon
Large zip-top freezer bag or freezer-safe airtight container
Masking tape
Marker
Peel, seed and slice your fuyu persimmons. Slice them to whatever size you prefer to eat.
Bring 2 cups of sugar and 2 cups of water to a boil in a medium nonreactive saucepan. Continue boiling until all the sugar is dissolved. Add the sliced persimmons to the syrup. Return the syrup to a boil. Turn off the heat and allow the mixture to cool to room temperature.
Pour the persimmons and syrup into a freezer-safe, airtight container or a large zip-top freezer bag. If you are using a bag, redistribute the persimmon slices so they form a single layer in the bag. Make sure the syrup covers the persimmon slices, no matter which container you use.
Label the freezer bag or freezer-proof, airtight container with "fuyu persimmons" and today's date. Place them in the freezer and use as needed.