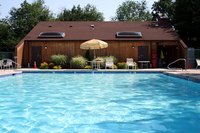 Outdoor tile can give your inground pool an elegant look and resort feel. To install tile around a pool, you must clean and seal the area you are working on, cut and lay the tiles with mortar, and fill in the spaces with grout. After this is done, just clean the tiles to ensure they are spotless for your pool area.
Things You'll Need
Tri-sodium phosphate cleaner
Scrubbing brush
Level
Concrete patching compound
Trowel
Concrete sealer
Paint roller
Tiles
Tile saw
Mortar
Grout spacers
Grout
Grout sponge/floater
Tile sealer
Apply the tri-sodium phosphate cleaner to the area where you will install the tile. Scrub the area with a scrubbing brush.
Use a trowel to fill in any cracks or uneven spots in the concrete with the concrete patching compound. You want an even, level surface for the tile. Allow the concrete to dry thoroughly.
Apply the concrete sealer to the area with a paint roller. Allow the sealer to dry thoroughly.
Measure and cut the tiles that will be placed along the edge of the pool and along the outside of the tile area with a tile saw.
Apply mortar with a trowel to an area where roughly four tiles will fit.
Place the tiles on the mortar and move them back and forth to ensure full contact with the mortar. Place grout spacers in between each tile. Wipe each tile with a wet towel or sponge after laying it.
Repeat Steps 5 and 6 until all of the tiles are down.
Remove the grout spacers and apply the grout with a grout sponge or grout float. Spread the grout evenly into the cracks. Wipe each tile with a wet sponge or towel after the grout application. Allow the grout sufficient time to dry.
Wipe the entire tiled area with a wet towel or sponge. Allow the area to dry. Repeat until the haze is gone from the tile.
Apply a tile sealer with a roller to ensure that no moisture is allowed into the tile. Allow the sealer to dry before using the pool area.