Things You'll Need
Broom

Grout and tile degreaser

Water

Plastic spray bottle

Stiff bristle brush

Plastic bucket

Mop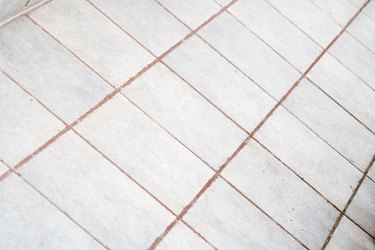 At some point in the life of a tile floor, the grout loses its original luster and color. Fortunately, there is a straightforward and relatively easy process to restore grout to its original color. Simply by using a grout degreaser, along with a stiff brush, you can remove heavily ingrained grease and scum stains which are affecting the color of the grout. Learn to prep the area, apply the degreaser, and restore the brilliance of your grout.
Step 1
Sweep away any loose dirt, objects, and food particles from the surface of the tiles and grout.
Step 2
Prepare the degreasing agent by mixing a gallon of water with two ounces of heavy grout degreaser.
Step 3
Fill a clean plastic spray bottle with the degreaser mix and spray it liberally onto the grout surface you wish to restore.
Step 4
With a stiff bristled plastic brush, scrub the grout forcefully to remove stains. Spray areas of grout with the degreaser and scrub again for tough stains.
Step 5
Rinse. Fill a plastic bucket with clean tap water and mop the floor. Allow the tile to dry and then mop again to remove all traces of the degreaser.