Things You'll Need
Tile cleaners

Sponge

Orbital sander

Sandpaper

Soft brush

Vacuum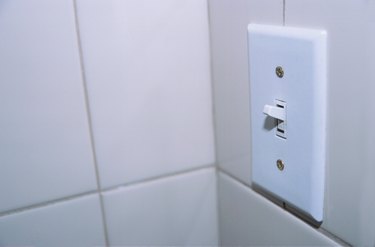 You sand porcelain tile to prepare it for repainting and resealing. Porcelain tile has a shiny, smooth and lustrous appearance that makes it a very attractive addition to your home. Ironically, you prepare porcelain tile to be refurbished by sanding so that it loses its gloss and has a scratchy surface. You do this so that paint will adhere to its surface. Paint will not stick on porcelain tile that is glazed and finished.
Step 1
Clean the tile and grout thoroughly with a commercial porcelain tile-cleaning product and a sponge. The cleaning product will help break down the finish on the tile and make it easier to apply paint.
Step 2
Inspect the tile and grout for damage or missing parts. Repair the tile and fill in missing grout as needed. Allow the grout to completely dry before sanding.
Step 3
Sand the tiles with a hand orbital sander and 220-grain sandpaper. Sandpaper with a 220-grit will remove the shine from the tile, but won't leave permanent marks. It will also rough up the surface. Check to make sure the tiles appear scratched and feel rough after they have been sanded.
Step 4
Look to make sure all the tiles are properly sanded, including the tight spaces in any corners. If all the tiles are not sanded correctly, problems will arise when you apply paint.
Step 5
Remove all dirt and debris from sanding with a soft brush and vacuum before applying primer and paint.
Tip
Sanding tile is a slow job that requires time and patience.
Warning
Do not use cleaners that include ammonia or bleach. Those products can change the color of your tile. Be sure to clean the grout as well as the tile.