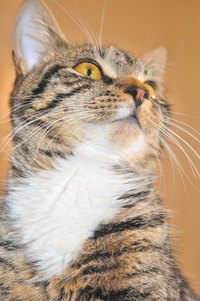 Cat urine retains an obvious, offensive smell that you do not want persisting in your home. Cleansing it from your tile is crucial for a cozy, odor-free home; to safeguard the tile from inevitable staining; and to help protect visitors who may have allergies. If your cat detects the odor of urine on your tile, it may urinate on the same spot again in an attempt to "mark" the same spot. Proper cleaning helps prevent recurrences while you train your cat properly. One of the best ways to remove odor without damaging your tiles is to use baking soda.
Things You'll Need
Baking soda
Water
Wooden spoon
Spatula
Scrub brush
Mop
Floor detergent
Mix one cup baking soda with water. Add the water slowly while using a wooden spoon to mix it with the soda until you have a thick paste.
Paste the baking soda onto the tiles with urine odor using a spatula. Scrub the baking soda into the tile with a scrub brush and let it sit for 30 minutes.
Rinse the area with water until you remove all traces of baking soda. Mop the area with floor detergent and water when done.