Things You'll Need
Pressure washer

Concrete resurfacer

Water

Trowel

5-gallon bucket

Concrete dressing

Rubber squeegee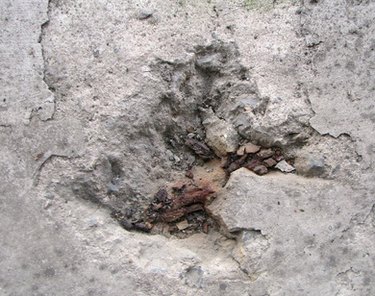 Over time, concrete floors can chip and crack. While it may be tempting to simply tear up the entire surface and repour it, you can save time and money by resurfacing the concrete. Resurfacing will fill in the cracks and put a thin layer of new concrete on the surface. You can also resurface your concrete if you want to add a new color or texture. Purchase or rent the items you'll need at a hardware or home improvement store.
Step 1
Pressure wash the entire slab to ensure that there is no excess dirt, dust or grime. Pay special attention to the cracks to make sure they are free of debris such as dirt and pieces of cracked concrete.
Step 2
Mix concrete resurfacer with water in a 5-gallon bucket according to the manufacturer's instructions.
Step 3
Pour the mixture directly into the cracks in the concrete.
Step 4
Force the mixture into the cracks with a trowel.
Step 5
Smooth out the surface of the poured concrete and let it dry overnight.
Step 6
Mix the concrete dressing according to the manufacturer's instructions. Concrete dressing is much thinner than concrete resurfacers.
Step 7
Wet the concrete with water from a hose to ensure that it does not dry too quickly. This will give you time to even out the concrete and smooth the top.
Step 8
Pour the dressing over the entire concrete slab. Run a rubber squeegee over the surface of the concrete to ensure that it is even, smooth and level.
Step 9
Let it sit for at least one day before driving cars or walking over it.