Cleaning your wood floors can be a little scary. You don't want to mop them in the traditional way with a wet mop and soapy floor cleaner. Wood floors need a little more care and you can't leave water on them or they can warp and become damaged. This homemade wood floor cleaning solution cleans up even the stickiest messes and dries quickly too.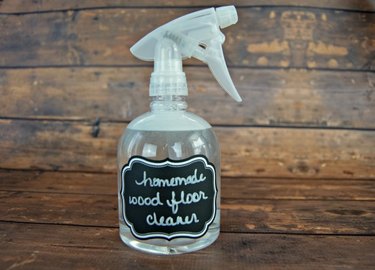 eHow may earn compensation through affiliate links in this tutorial.
Things You'll Need
1 cup water

3/4 cup vinegar

3/4 cup isopropyl alcohol

2 to 3 drops dish soap
Step 1
Pour the water into the spray bottle.
Step 2
Step 3
Follow it with the isopropyl alcohol.
Step 4
Top it off with 2 to 3 drops of the dish soap.
Step 5
Replace the lid and shake well.
How to Clean Wood Floors Properly
Buy materials for this tutorial: