Things You'll Need
Hammer

Chisel

Wire brush

Buckets

Concrete bonding liquid

Paintbrush

Concrete powder mix

Flat trowel
Tip
Sponsored tip: Need tools for your project? Check out RentalHQ and get connected with local businesses that'll help you rent the equipment and tools you need.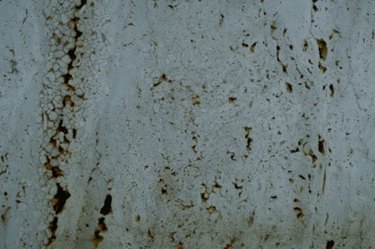 Though highly durable, concrete is not immune to cracking due to ground torsion. In some cases, stress cracks may lead to larger holes. If your concrete floor has gotten to this stage, it is best to repair it with the re-application of concrete. Before you can pour the concrete, however, you must prepare the hole for the project. Once the hole is properly chiseled, you can fill the hole with new concrete knowing your repair will be sound.
Step 1
Shape the hole in the concrete floor into a square with a hammer and chisel. Keep the bottom of the hole uniformly level and chisel the four sides of the square so they are undercut slightly. This is a technique where the hole is wider at the bottom than at the top so that the concrete patch adheres firmly.
Step 2
Brush out the chippings from your work with a wire brush. If there is fine dust left in the hole, clear it out with a wet/dry shop vacuum.
Step 3
Fill a bucket with concrete bonding liquid and then brush it onto the bottom and sides of the concrete with a paintbrush. Cover the entire hole evenly with the liquid.
Step 4
Incorporate the concrete powder in a bucket with water as instructed on the packaging. Aim for a pancake-batter like consistency.
Step 5
Pour the concrete into the opened hole, then pack it down and spread it evenly with a trowel.
Step 6
Swipe the trowel across the concrete so that it is level with the concrete floor. To blend the repair with the existing concrete, swipe the trowel over the concrete every five minutes for 30 minutes. This periodic leveling will keep the concrete in the right place so that it can cure properly.
Step 7
Wait 48 hours before walking on or driving on the concrete floor.