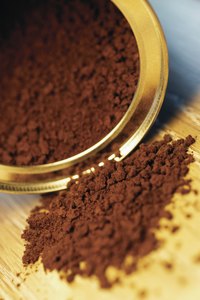 Recycled coffee can racers are based on a simple wheel-and-axle design. Moreover, the items needed to make them are easily found in most homes. Once built, a coffee can racer acts like a wind-up car. Children and adults alike can spend an exciting afternoon together constructing and racing these neat contraptions.
Things You'll Need
Coffee can
Can opener
2 plastic coffee can lids
Nail
Rubber band
Large paper clip
Tape
Bead
Pencil
Remove the bottom portion of the coffee can with a can opener.
Punch a hole into the middle of each of the plastic lids with the nail.
Hook a large paper clip onto the rubber band.
Push the rubber band through the hole on one of the coffee can lids. Keep the paper clip attached to the rubber band on the outside of the lid.
Tape the paper clip flat onto the lid to keep it from pulling through the hole.
Place the lid on one end of the coffee can.
Pull the rubber band through the coffee can and through the hole of the other lid. Set this second lid in place on the coffee can.
Push the rubber band through the hole in a bead. Slide the bead down the rubber band so it sits against the lid.
Pass a pencil through the loop in the rubber band on the opposite side of the bead.
Adjust the pencil so it sits centered against the bead. The pencil should be shorter in diameter than the coffee can lid.
Twist the pencil around the lid to wind the rubber band inside.
Set the coffee can on a flat surface, and release the pencil to send it rolling.