Party invitations serve as much more than simply letting your guests know when and where the party will be. The wording, images and style of the invitations should inform your guests of what kind of party you're having, the occasion for the party and include any special requests or extra bits of information. Use the wording in your invitations to let your guests know you are throwing a pool party so they arrive completely prepared.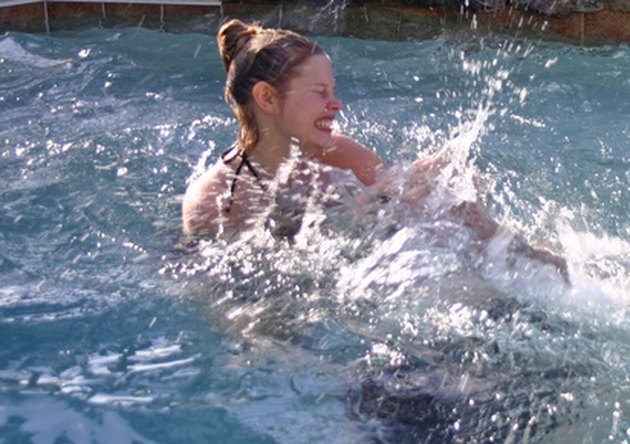 Step 1
Use terms that fit in with the pool party so guests know it's a pool party right away. For example, "Let's make a splash," "Dive right in" or "Cool off with a dip in the pool" are some examples.
Step 2
Reveal the reason for the party. For example, use the wording "We're bringing summer to a close" if the party is for no reason other than getting together one last time before summer ends. "It's Logan's 5th birthday" or something similar is important if the party is to celebrate a birthday.
Step 3
Include the day, date, time and location of the party in a prominent way. It's a good idea to include the start and end time of the party if parents will be dropping their children off. Add a map if not all of your guests are familiar with the location.
Step 4
Add the host's name and contact information, along with an R.S.V.P. date so you know how many guests to expect.
Step 5
List any items you want your guests to bring. For example, "Please remember to bring sunscreen, your bathing suit and a towel."
Tip
Use pool party items or shapes for the invitation to add interest. For example, write the invitation information on the bottom of flip flops, a beach ball or on the lenses of an inexpensive pair of sunglasses. Write a short poem if you're good with words and want custom wording.