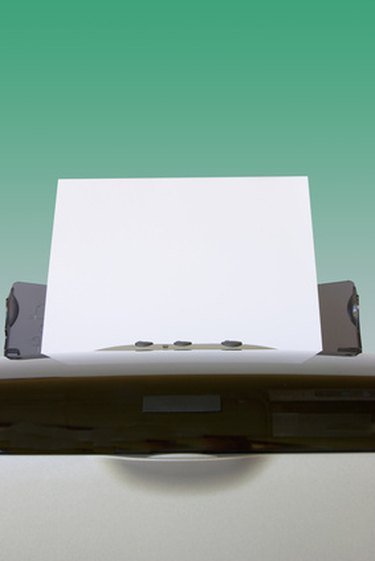 While the thought of printing your invitations on cardstock may feel intimidating at first, there are only a few differences between routine printing and printing invitations. Invitation cardstock has a different thickness, or weight, than normal paper and is usually a custom size as well. With a few adjustments to your printer, you will be able to print invitations on cardstock successfully.
Printing on Cardstock
Step 1
Measure your invitation cardstock to know its exact width and length.
Step 2
Insert the short end of your cardstock into your printer feed. If your printer is an inkjet printer, make sure the cardstock is snug against the right side and the adjustable feed guide flush with the left side. If your printer is a laser printer, put the paper in the manual feed compartment and adjust the side guides to fit the cardstock.
Step 3
Click "Print" in the editing program you are using to craft your invitation.
Step 4
Input a custom size into the printer properties. If you are using Word as your invitation software, click "Page Setup" and then click "Page Size." Select the paper size of your cardstock if it is a common size, or select "Custom" or "User Defined" to enter the measurements for the width (short edge) and length (long edge) of your invitation cardstock.
Step 5
Select the orientation of your page in the printer properties. For invitations oriented with the shortest edge facing up, select "Portrait." For invitations oriented with the longest edge facing up, select "Landscape."
Step 6
Select the "Media" or "Paper" tab in the printer properties and select "Cardstock" or a setting that is suitable for thicker paper. (Not all printers have this option.)
Step 7
Click "OK" to print your invitation on your cardstock.
Tip
It's a good idea to print just one test invitation first so that you can be sure that the invitation prints accurately.