Things You'll Need
USB Storage pen

Commercial printers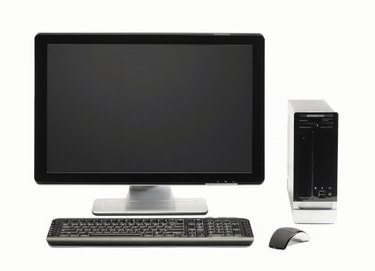 It is not difficult to design a business insert to fit inside a size 10 envelope. The desktop publishing program Microsoft Word is fairly user-friendly and it is straightforward to adjust the page size and create the computer graphics. Once you have designed the insert, send the design to a professional printer to print in bulk and dispatch as a promotional mail shot.
Step 1
Adjust the page size. Open the "page layout" menu. Click on the "size" option and select "more paper sizes" to create a custom page setting. A size 10 envelope, measuring 4.125-by-9.5 inches, is a standard business size in the United States. Select a paper size up to 4-by-9.25 inches so that the insert will fit snugly inside the envelope. If necessary, convert the sizes from inches to centimeters on the publishing program and insert the size 10.1cm-by-23cm.
Step 2
Set your margins by clicking on "margin" within the page layout tab.
Step 3
Select a background color. Click on the "page color" menu on the page layout tab. Choose a color and a color effect if required.
Step 4
Upload a royalty-free image, clip art or your own image via the "insert" tab. Arrange and resize it on the page by clicking on the image and dragging it to where you want it. Click on the arrows on the edit border to adjust the size of the image.
Step 5
Insert text to your flier. Use the "insert" tab and click on "word art" or "text box" to incorporate writing into your flier design.
Step 6
Save the file of the promotional flier insert as a PDF document and save it onto a USB storage pen.
Step 7
Take a USB storage pen to a printer to get your inserts professionally printed.
Tip
Play around with the formatting tools to add different effects to text and images within your flier design. It is cheaper to buy promotional fliers in bulk than it is to produce your own. The finish will also be superior.