Save time and money, keep yard waste under control and compost more efficiently with a do-it-yourself leaf shredder. Don't spend hours stuffing dried leaves into garbage bags, or paying top-dollar for professional lawn waste removal services. Making a few adjustments to your standard rotary lawn mower can turn it into a leaf shredder that cuts down on lawn waste in no time. A homemade leaf shredder also lets you to turn those shredded leaves into rich compost that your garden plants will love.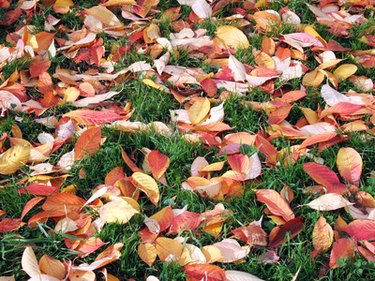 Things You'll Need
Mulching Blade Or Special Leaf-Shredding Attachments

Wrench

Rotary Mower
Step 1
Disable the lawn mower completely by removing the spark plugs.
Step 2
Using a wrench, remove the nuts and bolts that keep the original grass-cutting blade secured in place.
Step 3
Modify your mower by replacing the old blade with either a mulch or leaf-shredding blade, making sure the new attachment is in the correct position. The availability of blades and attachments will depend on your mower model and manufacturer.
Step 4
Secure the new blade on your mower by tightening it in place with the original nuts and bolts.
Tip
For easier removal of the original lawn mower blade, lodge a block of wood into the mower deck to keep the blade from spinning as you remove the nuts and bolts.
If you can't find a mulch or leaf shredder blade for your mower at local home improvement stores, contact the original manufacturer to see if they sell attachments.
Warning
Shredding leaves and other yard waste may produce flying particles. Use protective eyewear and work gloves when using your leaf shredder.