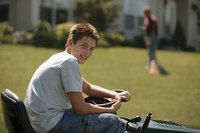 Gravely Tractor has been a leader in the lawn and garden industry since the early 1960's. With a fairly workable design, changing the blades is doable at any level of mechanic skill. Before you start have your replacement blades ready. If you do not know the model number of you mower to match for replacement blades, take the blade into your lawnmower shop and they will match the blade.
Turn off the engine and remove the ignition key. Remove the spark plug. Take off the bolts, flat washers, lock washer, and blades from the spindle shafts.
Replace the blade with the new blade. Put the blades, and all hardware (flat washer, lock washers, and bolts) back on the spindle shafts.
Tighten the bolts to a torque of 115 to 125 lb-ft. Replace the spark plug.