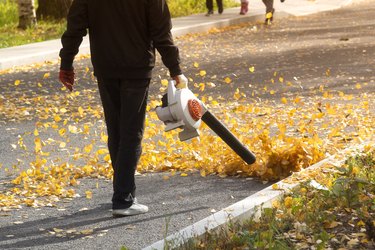 Can you convert a leaf blower to a vacuum? The answer is yes but only on specific models. Some leaf blowers have built-in vacuum modes that make blowing and bagging leaves easier. Both shred up leaves, reducing the volume by as much as 16 to 1. It's important to know that they work best with dry leaves rather than twigs and sticks; these can jam some leaf blower vacuums.
Can I Turn My Stihl Blower Into a Vacuum?
Some manufacturers, like Stihl, sell vacuum kits that are compatible with their handheld blowers. You'll have to read the product descriptions to see which models they are compatible with, though. The companies also share the installation and operating instructions online if you're unsure about how to attach the vacuum kit or use the blower. Even if you think you know how to do it, it's always best to read the manual first, as the specifics of your particular model can vary greatly.
You can find attachments for leaf or grass blower vacuums at Lowe's and other retailers as well as a good selection of other accessories and replacement parts if you need to repair your blower. These retailers sell hose attachment kits that work with almost all major leaf blower or vacuum brands, including gas and electric models. You can also find replacement cones and different kinds of leaf collection systems at these retailers.
Leaf vacuums are made to make the task of leaf removal more manageable, but the manufacturers did not design them to suck up large amounts of leaves. They reduce the volume of leaves. They're great for smaller areas, like decks, porches and patios, as well as between plants and are great for clearing these areas when you're in a rush. Some highly reviewed leaf blower vacuums are the Worx Electric Trivac, the Toro Electric Blower Vacuum and the Black and Decker Leaf Hog.
To use a leaf blower vacuum, you will first want to use the leaf blower mode to move most of the leaves away and into a large pile. Then, you can convert it to the vacuum mode. In some models, this means switching the tube to the other side of the fan. Others have a conversion switch that involves less work. Once you change it to the vacuum mode, use the hose to suck up the remaining leaf debris.
The Best Leaf Blower Vacuums
In a nutshell, leaf blowers spew out air to move large quantities of leaves into piles for easier cleanup, and leaf vacuums suck them through tubes and into bags. The leaves get ground up and forced into the attached bags, but you often have to empty them because they're not that large. On the bright side, you can use the pulverized leaves for mulch. You can power these helpful tools using gas, electricity or batteries, but a yard blower vacuum cordless can be easier to maneuver. You can also choose from handheld, backpack and walk-behind models.
When shopping for leaf blower vacuums, decide how big the bag size should be because the larger it is, the less often it needs to be emptied. Gas-powered ones are usually the heaviest, but some battery-powered ones are also weightier. Battery-powered and handheld ones are usually best for smaller yards. Look for models with on/off buttons and trigger switches right on the handles, allowing for one-handed operation. Other options for which to look include variable speed control and low noise.