Things You'll Need
Insert card

Wedding invitations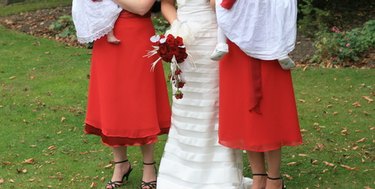 The popularity of theme wedding is rising. It is no longer unusual to attend a casino-themed wedding or a medieval-themed wedding. With that in mind, some brides organize their entire wedding based on their favorite colors. Traditionally, the bridesmaids dresses are one of the theme colors of the wedding, and the flowers another. If you decide you want to go a step further and suggest that your guests dress in your wedding colors to avoid clashing in photographs, make sure you mention it in advance so guests can purchase outfits if necessary.
Step 1
Pick a color that has different shades and looks good on many people. Pink might sound like a good idea but your male guests might not agree with you. Blue and green both have many variances, so your guests can choose the shade of the color rather than being stuck with one or two choices.
Step 2
Choose your wording carefully. You do not want to seem too demanding or your guests might be uncomfortable. Martha Stewart Weddings website suggests the wording, "we invite you to join in the wedding's color palette by wearing a shade of blue."
Step 3
Include an insert card in with your wedding invitations suggesting guests wear a certain color to your wedding. Avoid putting the request in the invitation itself, because this can make it too wordy. An insert card could also include information such as nearby hotels with special discounts, or directions to the reception.
Tip
Try not to get upset if a guest decides not to wear your color suggestion. The important thing is that she is there to celebrate your marriage.