Things You'll Need
Gifts for each person involved

Programs for the event

Refreshments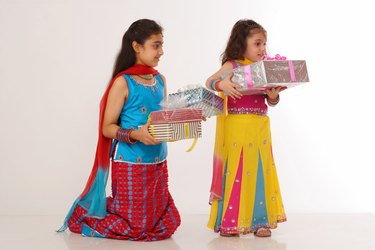 A purity celebration involves a ceremony where teens or other people promise to remain celibate until marriage. The celebration that follows involves an affirmation of religious beliefs and a commemoration of an individual's desire to follow Christian principles of purity and chastity. In order to plan a purity celebration, get families and church members involved so that this special day will flow smoothly.
Step 1
Plan ahead with the parents of the teens who will be involved in order to make sure every teen gets a special gift on the day of the celebration. Traditionally, parents give a teen a ring during the purity celebration that the teen wears on his left ring finger until he replaces it with a wedding ring. Other gifts, such as a necklace or bracelet, also are acceptable. If parents are unable or unwilling to participate in a ceremony with their teen, find another adult from the church who can step in.
Step 2
Arrange for refreshments for the event. Simple finger foods, snacks and beverages are appropriate for an event like this. It would be a nice touch to add a celebration cake for the event as well. Ask church members or the families involved with the ceremony to provide food, potluck-style, for the purity celebration.
Step 3
Decorate the event location. Since purity is the theme of the day, white should be your main decorating color. Use white tablecloths, white balloons and white flowers to decorate your church's reception hall or another location where you will hold the purity celebration.
Step 4
Print programs for the event, so that guests can follow along with the ceremony. You can include in the program the names and ages of the people involved in the purity ceremony, and they can keep the programs as a commemoration of the event. If you plan to have a recitation portion of the ceremony, a program will help the participants know what to say and when to say it.
Step 5
Invite church members to attend the celebration. During the ceremony, ask participants to pledge their devotion to the Christian ideals of chastity and purity. Celebrate their choice with them by hosting a party after the ceremony (this is your purity celebration). Continue to support participants in their progress as they grow and age.