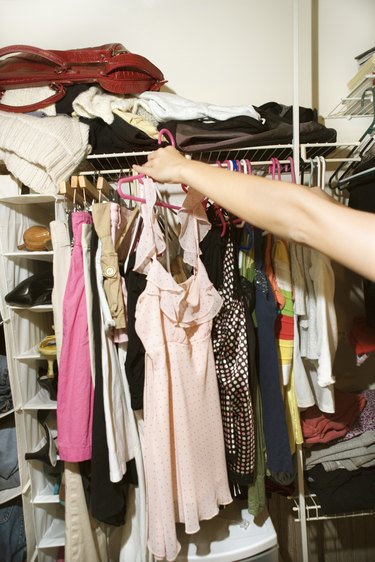 Similar to a sweet sixteen, but a year younger, a quinceanera celebrates the blossoming of a young Latina on her 15th birthday. It is a traditional coming-of-age party in which the birthday girl is presented to society in a beautiful, pastel-colored gown. When guests attend quinceaneras, they are expected to dress accordingly. Because of the celebration's religious roots, modesty plays a huge part in the fashion choices. While the guests can wear modern dresses, they must also wear age-appropriate clothing that complements the celebrated birthday girl.
Maxi Dresses
Women of all ages and sizes can feel comfortable and elegant in maxi dresses. Because of their length and style, these classy dresses will slim down your body. They also come in various fabrics, patterns and colors. Maxi dresses can be dressed up or dressed down with the choice of accessories. When wearing a maxi dress to a quinceanera, pick one with an accessorized, bejeweled neckline to add glamour to the outfit.
Light-Colored Dresses
When quinceaneras choose to wear another color other than white, they often wear light-colored dresses, such as soft pink. Guests can carry the theme of innocence and youth by also wearing light-colored dresses. However, like wedding etiquette, guests should do their best to avoid wearing the same color as the quinceanera's gown.
Tube-Top Dresses
Many guests choose to wear tube-top dresses to quinceanera parties because they are trendy, fun and comfortable for dancing. These dresses make excellent party dresses, but they can be also worn to the church ceremony prior to the celebration. For example, wear an appropriate-length tube-top dress with a shawl or sweater as a coverup.
Little Black Dresses
When in doubt, wear a little black dress to a quinceanera. No matter how lavish or small the party, cocktail attire looks chic and classic at these celebrations. Little black dresses come in a variety of styles. For example, they are available in strapless, spaghetti-strapped, three-quarter sleeves and many more options. Even though black is a controversial color for events, when used correctly, it can look stunning. Dress up a little black dress with diamond studs to add elegance.