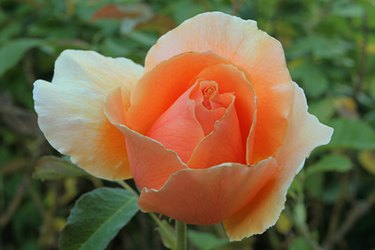 The next time you give or receive roses, you might want to think about what the colors symbolize. What do the colors of roses mean after all? Most people associate red roses with love, but what about coral roses, white roses and other hues? They are bought and sold in various shades, and each one signifies something for the purchaser and recipient.
What Do the Colors of Roses Mean?
You know that red symbolizes love, but while bright red is for romance, a darker burgundy shade can mean that the giver's feelings could be somewhat compromised. A rich, dark red could stand for true love.
The color pink is gentler and is associated with grace, joy and gratitude. Paler pinks are appropriate for expressions of sympathy, and dark pinks are lovely for thank yous and new romantic relationships. It's easy to see why pink and red roses sell best on Valentine's Day. You can choose a medium pink for any occasion, from a thank you to a birthday.
What do orange roses mean? This lovely coral hue communicates feelings of enthusiasm and passion. They're perfect for romances that evolve out of friendships and for romantic occasions. If you want to give roses to show a friend how much you care, yellow is always a good choice. Don't send these to a romantic interest because the color suggests that you only want to be friends. As for the beloved white roses, they symbolize innocence, purity and in some cases, chastity. That's why you see them so often at weddings, graduations and christenings and sometimes at funerals.
Different Color Roses Meanings
You don't see lavender or purple roses quite as often as the reds and pinks, but these unusual blooms are associated with adoration or fascination; their meaning also extends to splendor and royalty. People give purple flowers on happy occasions and for celebrations; lavender ones are given to mean love at first sight. Dark blue flowers can mean a few things, like people who aren't afraid to stand out from the crowd, reaching for the stars or feelings of mystery.
Pretty, pale peach roses can convey feelings of modesty, gratitude, genuineness and sincerity. That makes these roses perfect for weddings, expressions of sympathy or just saying thank you. While ivory roses are close in color to white, they are less romantic and indicate charm, gracefulness, thoughtfulness, perfection and richness. Some people are drawn to black roses, which can actually have positive meanings, like a new beginning, hope, courage and confidence.
Pantone's 2019 color of the year was a shade of orange called living coral, and it's not challenging to see why it chose such a beautiful color. Pantone reasoned that this vibrant shade provides feelings of warmth and nourishment as well as comfort and buoyancy. When justifying the choice, the experts expressed that this color was friendly, spirited and engaging, symbolizing the inherent need for playful expression, joyful pursuits and optimism. That was a big year for coral-colored flower arrangements.
Now that you understand the meaning of coral roses, you can get them for the right occasions. There are many other varieties of coral-colored flowers from which to choose. These include snapdragons, ranunculus and tulips. You'll see these popping up in gardens, and most can also be ordered online throughout the year.