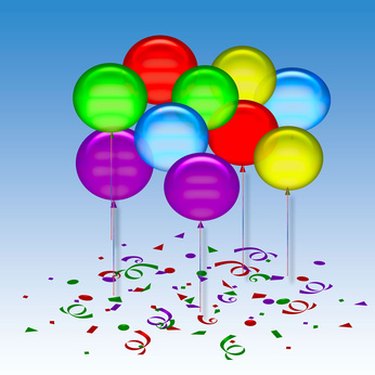 No matter what the age of your guests, throwing a party with a '50s rock 'n' roll theme is sure to let everyone cut loose and have a good time. The food and decorations are important in order to set the mood, but it's also a smart idea to come up with a few rock 'n' roll-themed games that you can use either to break the ice at the start of the party, or to bring out when things start to die down.
Step 1
Write a list of things you associate with '50s rock 'n' roll to be a reference as you plan. Include thoughts on costumes, specific musicians of the era, music, food or anything else that comes to mind.
Step 2
Make the invitations, which should reflect your rock 'n' roll theme. Encourage guests to dress as their favorite rock stars or in traditional "sock hop" clothes like poodle skirts and leather jackets. Consider including a few lines from popular '50s rock 'n' roll songs in the invitations.
Step 3
Rent a karaoke machine with a wide variety of rock 'n' roll CDs. Ask a few guests in advance to be the judges, and plan a sing-off game in which other guests vie for the best rock star impersonation. Another option is to rent a jukebox, particularly if you're planning on having dance space.
Step 4
Plan the food for your party, such as '50s diner-style burgers and fries, along with thick milkshakes or root beer floats. Visit your party supply store for rock 'n' roll items like plastic records and fuzzy dice, as well as balloons and posters of rock 'n' roll legends like Elvis and Bobby Darrin.
Step 5
Purchase a few hula hoops at your toy store for a fun hula hoop game. Just have a few guests volunteer, and time them to see who can hula the longest. Another game option is having an eating contest. For example, purchase several apple pies, then have three contestants go head-to-head to see who can finish the most. To time them, give them the length of one song, such as "American Pie."