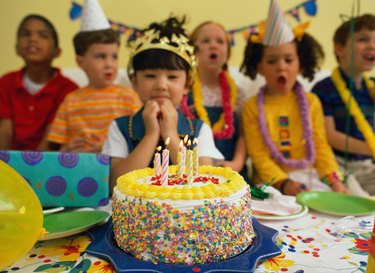 Planning a child's birthday party can be a lot of fun if you use a theme. A theme gives your decorations, food and games a focus to work with. If you and your family are Christians you might want to consider choosing a kid's theme that fits with a Bible story or Bible character. The Christian Bible has lots of great stories you can use to inspire your child's next birthday party.
King David
King David is undoubtedly the most popular king of the Old Testament, maybe even the Bible. As a boy, David inspired the world by his courageous defeat of the giant Goliath. Later the boy became the king of Israel. Your little boy would enjoy having a King David themed birthday party. Dress your child's chair up like a royal throne and give him a crown to wear during his party. For a pinata give him one that looks like a scary giant. Let everyone take turns smacking Goliath to get some good candy. For a fun game have your child's guests play with slingshots and stones, though make sure you set up some safe targets for kids to aim at.
Armor of God
The Bible instructs Christians to "put on the whole armor of God." Have a knight inspired party with your Armor of God theme. This is a good choice for a boy's party. Have two sets of plastic armor for kids to play with. Have a race to see who can get dressed fastest and run across a finish line. For decorations hang shields on the walls and use helmets to hold chips and snacks.
Queen Esther
Little girls who like feeling like a princess would enjoy a Queen Esther birthday party. Give her a beautiful princess dress to wear including a crown and a scepter. Just like the lovely queen did, have a banquet of your child's favorite foods. Dress the dinner table lavishly and treat your child like she was Queen Esther. For entertainment read the Bible story to the guests.
Racing Party
Christians are instructed to "run the Christian race" by the Apostle Paul. Give your child a racing party with an Olympic theme. Have lots of relay races played including some funny ones like a three-legged race. Buy some mini Olympic style medals to give away to children as party favors. This is a good party idea to use while the weather is warm. For fun, let kids light sparklers instead of the Olympic torch.