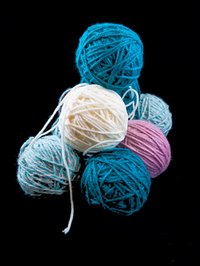 Pom-poms made from yarn are a classic, cute addition to many yarn projects. These pom-poms are not only simple to make but also take very little time and you can make them in any color you desire. Add the pom-poms as creative detailing to the ends of handknit scarves, blankets and even clothing. This gives a festive look to your handknit or crocheted projects and is the perfect finishing touch for anything from home decor to handmade gifts.
Things You'll Need
Cardstock or cardboard
Yarn needle (optional)
Preparation
Cut the cardboard/cardstock into two identical small circles about 1 to 2 inches wide and cut the center of the circles out.
Stack the two circles on top of each other and begin wrapping the yarn through the middle of the circles, around the outer edge and back through the middle. Use either your fingers or a yarn needle; the choice is yours. Continue wrapping until the circle is completely covered and closed up from the accumulation of wrapped yarn. The circle should now resemble a yarn doughnut with an indentation instead of a hole in the center.
Cut with scissors through all layers of the yarn on the outer edges of the circle. The point of your scissors will slip between the two cardboard circles. Follow the circle all the way around its circumference and cut through the looped yarn edges. When you have cut all the way around the circle, the cut edges will stick out, with the cardboard circles remaining intact.
Tie the pom-pom together. Slide a piece of the yarn you used for the pom-pom between the cardboard circle layers and tie it firmly through the center. Cut the tying yarn to equal length with the other yarn edges.
Snip the cardstock entirely out of the pom-pom while taking care not to snip any yarn. Once the circles are removed, trim any excess yarn and fluff the pom-pom as needed for fullness.