Things You'll Need
Hammer

Rust proof nails or screws

Level

Tape

Thin set glue

Ridged trowel

Spacers

Grout

Sponge

Silicone caulk

Caulk gun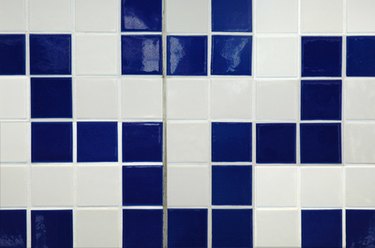 Because wood expands and contracts, it's not an ideal situation to install tile over wood. While you can install tile directly over wood, the inexpensive protective barriers designed to go between the tile and the subfloor are a small price to pay in time and effort for the long life of the tiles. If you are a do-it-yourselfer, you can add these protective products before you lay the tile to help keep the tile from cracking.
Step 1
Install the exterior-grade plywood subfloor so that the wood grain on the top of the plywood runs perpendicular to the floor joists. Stagger all the pieces of plywood so that no two joints align. Allow 1/8-inch gap between all the pieces and a 1/4-inch gap along the walls of the room. The gaps allow for expansion of the wood and helps prevent cracks in the tile. Hammer all nails below the surface of the plywood.
Step 2
Lay cement backer board over the plywood subfloor. Make sure no joints line up on the cement backer board or on the plywood below. Allow 1/8-inch spacing between the sheets of backer board and 1/4-inch along the wall. Make sure the nails or screws you use go into the floor joists. Countersink them below the surface of the backer board.
Step 3
Tape the joints of the backer board. Put on a coat of thin set glue over the joints. Check the floor to make sure there are no uneven spots. If there are, add thin set to level the floor. Allow thin set to dry.
Step 4
Lay out the tiles according to your design. Apply thin set under each tile with a ridged trowel. Set the tiles in place. Put spacers between the tiles to help keep them aligned properly. Allow the thin set to dry. Remove the spacers.
Step 5
Work grout between the tiles. Wipe up excess grout with a damp sponge. Allow the grout to dry.
Tip
Don't put grout between the outside tile and the wall. Grout doesn't allow enough for expansion here. Use silicone caulking instead.
If you don't want to install the cement backer board, install a waterproofing membrane between the subfloor and the tile instead.