Things You'll Need
2-foot-by-4-foot pieces of wood

Saw

Wet sponge

Duct tape

Latex paint primer

Paint roller

Self-leveling compound

Trowel

Long-handled hoe

Sand

Medium-grade sandpaper

Adhesive

Notched trowel

Wood floorboards

Wood glue

Concrete blocks or heavy items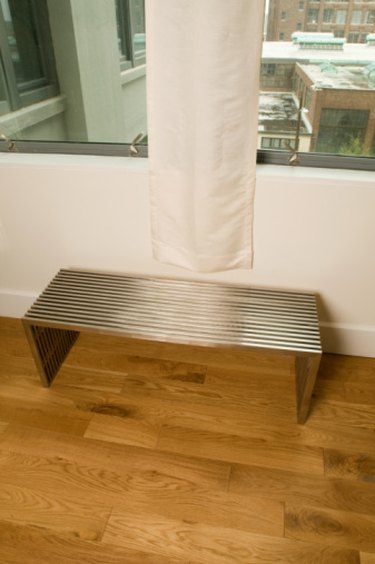 If you install wood flooring directly over an uneven subfloor, your new wood floor will be uneven as well. But if you cover the uneven subfloor with self-leveling compound before installing your wood flooring, your new floor will be even and level. It's safe to use self-leveling compound on wood as well as concrete subfloors, as long as the subfloor is strong enough to support the weight of the compound.
Level the Subfloor
Step 1
Cut 2-foot-by-4-foot pieces of wood to fit in any doorways in the room. Hold the wood in place with duct tape. The wood will keep the self-leveling compound from leaking into other rooms.
Step 2
Clean the uneven subfloor with a wet sponge and allow it to dry. This will help the self-leveling compound adhere to the subfloor.
Step 3
Cover the seams between the floor and the walls with duct tape. Also seal any holes that allow pipes to pass through the floor with duct tape. This keeps the self-leveling compound from spreading.
Step 4
Paint the floor with latex paint primer and allow the primer to dry for a few hours. This will help the self-leveling compound adhere to the subfloor.
Step 5
Pour the self-leveling compound onto the floor and spread it around with a trowel. The compound will settle into the subfloor's valleys, creating an even surface. If any self-leveling compound leaks out from under the wood barriers in the doorways, pour sand on the compound to absorb it.
Step 6
Let the self-leveling compound dry for at least 12 hours. Sand down any ridges in the compound created by the trowel, using medium-grade sandpaper.
Install the Wood Flooring
Step 1
Purchase the appropriate floor adhesive for your wood floorboards and self-leveling compound. Consult with a sales associate at your local home improvement store.
Step 2
Spread the floor adhesive on a section of the floor by a wall with a notched trowel. Use the notches on the edge of the trowel to create grooves in the adhesive as you spread it.
Step 3
Place the first floorboard on top of the floor adhesive with the groove side of the tongue-and-groove board facing the wall.
Step 4
Spread adhesive on the floor next to the first floorboard as you did before. Apply wood glue to the groove of a piece of wood flooring. Fit the groove of this floorboard onto the tongue of the first floorboard and press the second floorboard into the floor adhesive. Continue adding floorboards in this manner until the floor is covered.
Step 5
Place concrete blocks or other heavy items on the wood flooring to press it into the floor adhesive as it dries. Let the floor adhesive dry according to the manufacturer's instructions.