Things You'll Need
Tape measure

Hammer

Pry bar

Broom

Vacuum

Finish nails

Wood flooring

Floor nailer (can be rented)

Miter saw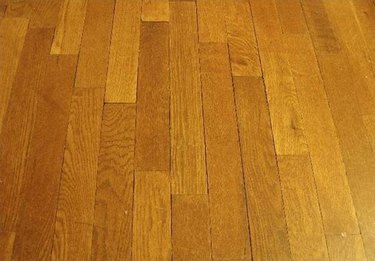 Hardwood flooring is one of the most popular flooring finish materials available. It brings warmth and character to the home and goes well with almost any decor. Best of all, most homeowners will find that installing their own hardwood floors is not as difficult as they may believe, saving them the high cost of professional installation. Installing over linoleum floors is relatively simple, as the linoleum can be left in place with the hardwood flooring nailed directly over top.
Step 1
Measure the space to determine how much material you will need to purchase. Multiply length and width to calculate square footage. You can purchase hardwood flooring at a home improvement store or from a specialty flooring manufacturer. Before making your purchase, increase your square footage by about 10 percent to help account for damaged or discolored planks. This extra material will also be useful for future repairs, as it can be difficult to match the exact color and grain of the flooring at a later date.
Step 2
Remove baseboards and trim from around the perimeter of the room to give yourself space to work. Use a hammer or pry bar to gently pull them away from the wall. Remove any nails or staples and set them aside for reuse.
Step 3
Sweep the floor clean using a broom, then follow up with a vacuum to make sure no dirt or debris is left behind. You don't want these items to get under your hardwood floor and cause problems down the road.
Step 4
Leave a 3/8-inch gap at the base of the wall for expansion and begin laying your planks. Start along the longest wall, as this usually ensures the flooring will be perpendicular to the floor joists. Use flooring nails every 6 inches and no closer than 2 inches to the end of each plank.
Step 5
Lay your next two rows of flooring in the same manner as in Step 4. Be sure to stagger the joints of each row to keep the installation secure.
Step 6
Use a floor nailer to secure all flooring beyond the third row. The floor nailer should be placed at a 45 degree angle along the edge of each plank. Use it to drive nails every 6 inches as you work.
Step 7
Continue laying your flooring planks. Use a miter saw to cut any pieces as necessary to make them fit. Discard pieces smaller than 1 foot in length.
Step 8
Force the last row of flooring into place using a pry bar. Leave another 3/8-inch gap at this end of the room for expansion, then use a hammer and finish nails to secure this final plank.
Step 9
Reinstall baseboards or trim to hide the expansion joints and complete the project.
Warning
Do not attempt to lay hardwood flooring over linoleum that was installed before 1980. Many floors installed before that time have asbestos in either the tile or the adhesive. By nailing through the floor, you will be releasing dangerous asbestos. Consult an asbestos testing company if you aren't sure when your floors were installed.