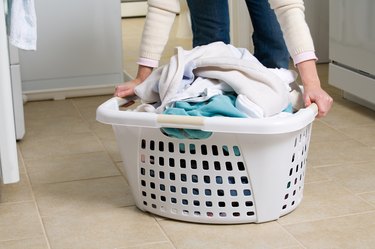 A new floor installation can be expensive. Many homeowners choose to do the work themselves to avoid the costs of hiring a professional. Peel-and-stick vinyl tiles are durable and easy to install. There are two different methods suitable for installing self-adhesive vinyl tiles over concrete.
Peel-And-Stick Vinyl Tiles
Vinyl tiles are constructed with four layers of material to enhance their durability. The bottom layer is a vinyl backing for strength and stability. Next is the design layer, covered with a printed pattern. On top of the design layer are two protective layers, a urethane layer to protect against scratches and a clear film to protect against rips. Vinyl tiles are easy to clean and maintain. They are recommended for mudrooms, playrooms and laundry rooms.
Concrete and Plywood
The ideal method for installing peel-and-stick vinyl tiles over concrete is to first lay plywood over the concrete. The tiles will adhere more readily to plywood than to concrete. Cover the concrete with 1/4-inch plywood and secure it with 1 1/4-inch underlayment nails. Spread leveling compound along the plywood seams to ensure no cracks or uneven spots will mar the finished floor then sand the compound smooth before laying the tiles.
Concrete Only
To install peel-and-stick vinyl directly onto a concrete sub-floor, the concrete must be primed. Use a leveling compound to ensure there are no high spots or dips in the sub-floor then sand the leveling compound smooth before applying the primer. A copolymer resin primer is recommended for sealing and waterproofing the concrete. This type of primer will also improve adhesion. Ensure the primer is completely dry before laying the tile.
Installation Tips
The tile should be stored at a temperature of at least 65 degrees Fahrenheit for 48 hours to condition it for installation. Ensure that the sub-floor is clean and free of any dust or debris and use chalk lines to divide the floor into sections and help keep the tiles straight. The floor should be pressed into place with a rolling pin, after all of the tiles are laid, to ensure they adhere properly.