Things You'll Need
Black hooded sweatshirt

Black pants or leggings

Black socks

Black shoes (optional)

Black knit gloves

Large hanging cardboard skeleton

2 bottles green or white glow-in-the-dark fabric paint

Roll of tape

White fabric marker

8-inch piece of elastic string

Small paintbrush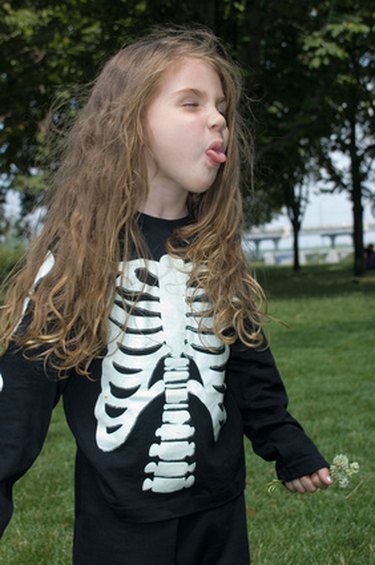 The skeleton, that bony, traditional symbol of Halloween, makes a fun and potentiality scary costume. It is also an easy costume to make by painting the skeleton onto a set of black clothing with glow-in-the-dark fabric paint. For those with an artistic bend, you can paint the bones freehand directly onto the clothes.The rest of us can use a large hanging cardboard skeleton, the kind sold as party decorations, as a guide. Look for one as close to the size of the wearer as possible, or use one that is slightly smaller for a detached bone look.
Step 1
Carefully cut the cardboard skeleton apart at the ankle, knee, hip, waist, shoulder, elbow, wrist and neck. If there is a border or background around the bones, cut this away, leaving only the shape of each bone.
Step 2
Lay your leggings and shirt out on a table or other flat surface. Lay the skeleton leg and hip pieces on the pants, recreating the bottom part of the skeleton, then tape them down.
Step 3
Lay the skeleton arm and chest pieces onto the shirt, recreating the top part of the skeleton, and tape them down.
Step 4
Put on the pants and shirt to make sure the bones align well with your body. Adjust and re-tape the cardboard pieces until you get the look you want, then remove the shirt and pants.
Step 5
Trace the cardboard bones onto the fabric with the fabric marker, then untape them. You will have the outline of a skeleton on the fabric.
Step 6
Fill the outline of the bones with a paintbrush using the glow-in-the-dark fabric paint.
Step 7
Repeat the process for your gloves and socks using the cardboard hand and foot pieces.
Step 8
The cardboard head will serve as a mask. Cut out the eye sockets for visibility.
Step 9
Punch a small hole on either side of the head around where the ears would be. Tie one of end of the elastic string through one hole and the other end through the other hole to create a strap for the mask.
Step 10
Paint the white sections of the mask with glow-in-the-dark paint.
Step 11
Put on your costume and mask, pulling up your hood to conceal your hair and elastic band.
Tip
Socks are fine for an indoor party, but if you will be trick-or-treating or at an outdoor event, paint bones onto a black pair of shoes instead.