Things You'll Need
Lightweight cardboard

Scissors

Tape measure

Parchment paper

Flour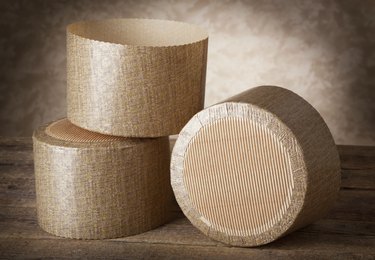 For Italians, panettone is a holiday tradition. The fruit-filled sweet yeast bread that's as sweet as cake is baked in paper cylinder-shaped molds and given as gifts. During the holiday season, the bread is eaten for breakfast, served as an afternoon snack with Marsala wine or a late night treat before going to bed. Because it's so light and airy, make French toast and bread pudding out of panettone bread for a special treat. By making your own mold, you're adding a personal touch that says you care.
Step 1
Cut a 3-inch circle out of light cardboard. Measure its circumference.
Step 2
Cut a piece of parchment paper 6 inches high and the length of the measurement of the circumference, plus 1 inch. It should be around 6 by 11 inches.
Step 3
Clip small, straight 1/4-inch slits -- like you're cutting a fringe -- along the length of the parchment paper. Make them 1/4 inch apart.
Step 4
Make a glue out of 2 tablespoons of flour and 4 tablespoons of water. If glue is too thick, add water two drops of water at a time to thin it out. If the glue is too thin, add a little flour, and mix again.
Step 5
Make a round tube with the parchment paper and glue the two edges together. Put the cardboard circle in the bottom of the tube. Take the fringe and fold it over the outside cardboard bottom of the tube and glue it. Leave it to dry overnight.
Step 6
Cut a 3-inch circle of parchment paper. Place it on top of the inside cardboard bottom to complete the panettone bread mold.
Tip
Pour the panettone batter into the mold and bake according to the directions. Tie twine around the bread and add a holiday decoration if you're giving it as a gift. Put some colored paper around the mold to give it holiday flair. You can also use metal coffee cans as molds. Draw around a cup or plate so you have a perfect circle.